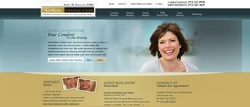 Fairfield, NJ (Vocus) October 18, 2010
As part of a Halloween Candy Buy-Back program at his Fairfield cosmetic dentistry practice, Dr. Jerry Strauss is collecting unopened Halloween candy this October to support the U. S. troops in Iraq and Afghanistan. The campaign in 2009 yielded 283 pounds of candy, which broke the record from the previous year by 173 pounds. Dr. Strauss says he hopes to break their record again this year, and adds that the Candy Buy-Back program gives him and his patients a chance show their support for the troops as the surrounding community joins together for a worthy cause.
Dr. Strauss says he strives to make each patient's experience with his practice a comfortable and positive one, which is why he provides a range of procedures, supplemented by sedation dentistry in Fairfield. In addition to providing a way for patients to contribute to a good cause, he says he believes the Candy Buy-Back program further maintaining his patients' oral health by limiting their sugar intake. While he typically treats his patients with cosmetic and restorative procedures such as dental implants in Fairfield, Dr. Strauss says he looks forward to the opportunity the Candy Buy-back program offers both children and our troops overseas, and hopes they are able to build on the success they have had in the past.
After Halloween, Dr. Strauss encourages parents to bring their children to his practice to trade in their candy. As part of the Candy Buy-back program, children will receive $1 for every pound of candy they bring in, which Aesthetic Dental Care will then send to the troops. In addition to the cash trade-off, Dr. Strauss will be giving out raffle tickets for each pound of candy, as well as prizes for the largest trades. Dr. Strauss says participants do not have to be patients of Aesthetic Dental Care of New Jersey, and adds that there will be extra prize opportunities for current patients that refer friends and family to his practice and the buy-back program.
Whether he is performing general dental care or a cosmetic procedure such as teeth whitening in Fairfield, Dr. Strauss says he aims to create an environment that supports the unique needs of his community, and adds that the Candy Buy-Back program provides him and his patients the opportunity to give something back to the troops defending our nation.
About Dr. Strauss
Dr. Jerry Strauss earned his medical degree from the Boston University School of Graduate Dentistry. He then completed a general practice residency at the SUNY Upstate Medical Center in Syracuse, NY. Dr. Strauss is a graduate of the Las Vegas Institute for Advanced Dental Studies, and continues to pursue dental education there. He achieved Mastership status in the Academy of General Dentistry, and is a member of the American Dental Association, the New Jersey Dental Society, and the American Academy of Cosmetic Dentistry.
Dr. Strauss' Aesthetic Dental Care practice is located at 389 Passaic Ave. in Fairfield, NJ 07004. For more information regarding the Candy Buy-Back program, including when to visit Aesthetic Dental Care and Dr. Strauss, the practice can be reached at (973) 287-3829, or http://www.aestheticdentalcarenj.com/
# # #