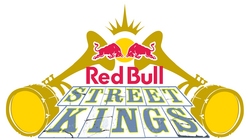 Crowned Prince of Tremé
New Orleans, LA (Vocus) October 19, 2010
On October 23rd, four New Orleans brass bands, Free Agents, The Stooges, To Be Continued and Soul Rebels, will march through Tremé to battle it out under the Claiborne Bridge for Red Bull Street Kings, a first-of-its-kind brass band showcase and competition. This brass band battle royale will be hosted by none other than the "Crowned Prince of Tremé," Glen David Andrews.
This "Brass Band Blowout" features the next generation of brass bands influenced by the rich musical legacy of the New Orleans streets. Marching into battle, each band will be followed by a traditional New Orleans Second Line parade inciting enthusiasm in the streets for this unique event. Once taking the stage, the bands are challenged to demonstrate their ability to incorporate traditional brass band standards and original tunes.
Bands will be judged by an esteemed panel of New Orleans music and cultural icons on the following categories:

Appearance (1st Impression & Presentation)
Material (Traditional Style v. Original)
Energy
Musicality
Innovation
In the end, only one band will be crowned Street Kings. In addition to bragging rights, the winning band receives an all-expense paid trip for a three-day recording and mentorship session with a veteran producer in the prestigious Red Bull Studios in Santa Monica, CA.
THE CONTENDERS
Free Agents Brass Band: Free Agents was formed in September 2005 in an effort to bring the culture and music back to New Orleans. The band longs to preserve and promote the musical legacy of the brass band tradition. Free Agents consists of young, living legends who produce harmony with a combination of the old traditions and new funk. They pride themselves on creating a live show that spreads energy and the need to dance.
The Stooges Brass Band: The Stooges hit the streets, literally, in 1996, but got their first big break in 1998 when they performed at the Rebirth Brass Band's 15th Anniversary Parade. With many of its members graduating from the New Orleans Center for Creative Arts, this band has the technical training and talent to produce music of many different styles. While their roots are in traditional jazz, the band uses hip hop and rock influences to create a new sound and has become a New Orleans street sensation.
To Be Continued Brass Band: Also, known as "TBC", To Be Continued Brass Band originally formed in 2002 from members Carver Senior High School's marching band. Living with a member of the Dirty Dozen Brass Band after their home was damaged in Hurricane Katrina, TBC was influenced by older musicians who would stop in for jam sessions and learned much more about the traditional New Orleans jazz music. Making their debut performance in 2006 at the New Orleans Jazz & Heritage Festival, TBC has gained recognition throughout the world. The band's goal is simply to inspire young people to learn and appreciate music.
Soul Rebels Brass Band: Soul Rebels honed their skills the only real way a brass band can—in the street. Respecting the brass tradition, but gathering contemporary influences such as hip hop, and incorporating more vocals, the band strived to incite positive change in its treasured musical heritage. Although the seven-piece line-up scattered across the region after Hurricane Katrina, they relish every opportunity assemble together for gigs throughout their New Orleans home.
THE ROOTS OF MUSIC IN AMERICA
At the pinnacle of the rich New Orleans musical history are the time-honored brass bands. Dating back to the 19th century, the New Orleans brass band tradition has influence nearly all genres of music including traditional and modern jazz, rock, country, funk, hip hop and more.
Notable musicians have emerged from this cultural breeding ground including: Wynton Marsalis, Harry Connick, Jr., Cowboy Mouth, Louis Armstrong, Lil Wayne, Lil Romeo, and Master P… just to name a few.
For more event details, full band bios and more, visit http://www.redbullusa.com/streetkings.
For all media inquiries about Red Bull Street Kings, please contact Casey Thompson at (214) 674-9127 or Casey(dot)Thompson(at)us(dot)redbull(dot)com.
# # #