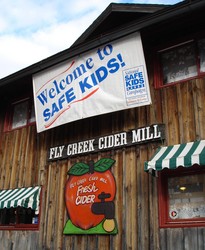 Parents need to remind kids about safety while walking before they go out trick-or-treating
Fly Creek, NY (Vocus) October 17, 2010
Halloween is supposed to be a spooky night, but parents don't have to be scared about their kids' safety if they follow some simple safety tips from Safe Kids of Otsego County. It's essential for parents to prepare their children properly to stay safe while trick-or-treating. Over a recent five-year period, on average, twice as many child pedestrians have been killed on Halloween as have been killed on average throughout the rest of the year.
To promote Halloween safety the Fly Creek Cider Mill & Orchard will host Safe Kids of Otsego County on Saturday and Sunday, October 24 & 25 from 10:00 until 4:00 to provide safety tips, reflective zipper pulls and stickers to Mill visitors. The excitement of the holiday can make everyone less cautious. "Parents need to remind kids about safety while walking before they go out trick-or-treating," says Rich McCaffery, a Community Educator with Bassett Healthcare and Safe Kids of Otsego County. "Children should bring flashlights or glow sticks with them, carry reflective bags, or have reflective tape or stickers on their costumes, so as to increase their visibility to drivers. Children should not wear masks that may inhibit their ability to see hazards. Ensuring kids are seen this Halloween is essential to keep this holiday fun for everyone."
Joining Safe Kids on Saturday is a rollover simulator demonstration by the New York State Police. "In an accident, you are four times more likely to be killed or seriously injured if you are thrown from your vehicle. That's why the Rollover Simulator was designed - to clearly and dramatically demonstrate the importance or wearing your seat belts and using child safety restraints seats. Life-size dummies are placed, unbelted, in the truck cab. To simulate a rollover accident, the cab is mechanically rotated, which causes the dummies to be ejected. The dummies are then returned to the cab and secured with safety belts. Again, the cab is rotated and the dummies remain safely in the cab demonstrating the need for seat belts," says Trooper Peter Grunder, Troop C School and Community Outreach Coordinator.
Safe Kids' Tips for Parents and Drivers
Safe Kids recommends that children under age 10 do not trick-or-treat without adult supervision. If kids are mature enough to go trick-or-treating without supervision, make sure they go in a group and stick to a predetermined route with good lighting.
Parents should also remind kids to:

Cross streets safely. Cross at a corner using crosswalks and obey traffic signals. Try to make eye contact with drivers before crossing in front of them. Look left, right and left again when crossing, and continue looking while crossing. Walk, don't run, across the street.
Walk on well-lit sidewalks or paths. If there are no sidewalks, walk facing traffic as far to the left as possible. Children should walk in familiar areas with minimal street crossings.
Be a safe pedestrian around cars. Watch for cars that are turning or backing up. Never dart out into the street or cross between parked cars.
Drivers need to do their part to keep trick-or-treaters safe from harm. Safe Kids also reminds motorists to be extra careful this Halloween and recommends that drivers:
Be especially alert. Remember that popular trick-or-treating hours are during the typical rush-hour period between 5:30-9:30 p.m.
Drive more slowly. Slow down and anticipate heavier than usual pedestrian traffic.
Turn lights on. Be sure to drive with full headlights on so children can be spotted from greater distances.
Although pedestrian safety is the main concern on Halloween, parents also need to keep in mind that there are other hazards for their children on this holiday. Parents must check treats for choking hazards or signs of tampering before children are allowed to eat them. Safe Kids of Otsego County suggests that parents look for non-flammable costumes and non-toxic designations in Halloween makeup, and make sure their children wear well-fitting, sturdy shoes to prevent trips and falls. Finally, children should only go to homes where the residents are known and where outside lights are on as a sign of welcome.
Safe Kids of Otsego County works to prevent accidental childhood injury, the leading killer of children 14 and under. Safe Kids is a member of Safe Kids Worldwide, a global network of organizations dedicated to preventing accidental injury. Safe Kids of Otsego County was founded in 2000 and is led by Bassett Healthcare.
The Fly Creek Cider Mill & Orchard is located just minutes from Cooperstown in Upstate New York. The Mill is open daily from 9:00 until 6:00 until December 20 and will re-open in April of 2010. The Mill's On-Line Store is open year-round at http://www.flycreekcidermill.com. Safe Kids Weekend is free to the public and registration is not required. Parking is free.
# # #