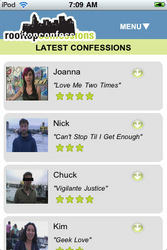 Rooftop Confessions started as a funny idea by a couple of girls and guys at a party. Today it's a global phenomenon.
Brooklyn, NY (PRWEB) October 18, 2010
For the third week in a row, Rooftop Confessions, the world's first reality series made for mobile devices, has reached the top 10 in iTunes in the entertainment category. In three countries, the app has ranked in the top seven: in Canada (7), Denmark (7), The Netherlands (6) and reached the top 20 in Sweden and Norway. The series is set to continue its revealing look into the underbelly of life while capitalizing on shifting media-consumption habits of consumers who are supplementing television and other traditional forms of entertainment with ground-breaking ones like the iPad.
Rooftop Confessions is the first multi-platform series to successfully leverage this consumer trend into an innovative form of reality entertainment that viewers can enjoy anywhere and at any time, whether they're viewing from a television screen, computer screen, or via apps for the iPhone, iPod Touch, or iPad, and coming soon, for Android devices. Whatever devices consumers are using, Rooftop Confessions will be right there with them.
Critical acclaim from big industry movers such as 2waytraffic, a subsidiary of Sony Pictures Entertainment, and admiration from Rooftop Confessions' numerous fans have fueled its global success.
What began as a pet project on a rooftop in Brooklyn, N.Y., has developed into a phenomenon in which thousands of viewers have indulged their inner-voyeur and peeked into the intimate, humorous, and outrageous confessions of everyday people. Rooftop Confessions comprises a series of more than 400 videos and has visited The Dinah, an all-female festival held in Palm Springs, Calif. and the annual Halloween Parade in New York City. The fourth season of Rooftop Confessions will take place during Spring Break in Panama City, Fla.
The goal was to create the first user-generated, made-for-mobile reality series. After three successful seasons, Rooftop Confessions aims to expand its markets, enter new distribution channels, and produce more of the engaging content that has fueled its popularity and success.
About Rooftop Confessions
Rooftop Confessions is the world's first reality series made for mobile devices and is currently available on iTunes for the iPhone, iPod Touch, and iPad. An app for Android mobile devices is in the works. With more than 400 episodes, Rooftop Confessions offers viewers a glimpse of human life through the incredible stories shared by everyday people. 2waytraffic, a subsidiary of Sony Pictures Entertainment, handles the distribution of Rooftop Confessions to the United Kingdom, Australia, and South Africa.
for more information, contact Hilla Manor hilla(at)rooftopconfessions(dot)com
and visit: http://www.rooftopconfessions.com
http://itunes.apple.com/us/app/rooftop-confessions-sampler/id363876966?mt=8
###