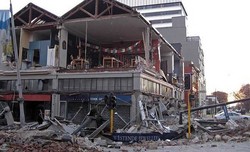 Being able to rely on Mango during those critical first few weeks was key.
Christchurch, New Zealand (PRWEB) October 19, 2010
For compliance management software company, Mango, the 7.1 magnitude earthquake that hit its home city of Christchurch, New Zealand on September 4th could have spelt disaster. Instead, just over a month later, sales and customer satisfaction levels are at an all-time high.
Mango is one of a new-breed of software companies that uses an operating model known as 'cloud computing' to deliver its compliance management solutions to customers.
As Peter Rogers, founder and managing director of Mango explains, the term cloud computing is somewhat confusing: "The term 'in the cloud' sounds all very airy fairy but the reality couldn't be more different. What it really means is that customers use the Internet to access software that is running on someone else's hardware, in someone else's data centre."
In Mango's case that expertise is provided by local internet service and data centre provider Unleash. Growing from small beginnings, Unleash has built its reputation on rock solid reliability and network uptime and now services some of the region's largest and most-demanding businesses.
"The theory is that it's a highly-secure and reliable operating model because you're using experts to ensure you can deliver on the promise of 100% uptime," says Rogers.
However, when faced with a quake larger than Haiti (which claimed over 220,000 lives earlier in the year) theory gets puts to the test.
Yet thankfully in the minutes, hours and days following the Christchurch earthquake, the only thing Mango personnel didn't have to worry about was business continuity. In fact, whilst other businesses ground to a halt, Mango made more sales than ever before. "It was a very surreal week – even though basic services like water and power weren't working for some, there we were operating normally and taking orders," explains Rogers.
Born in New Zealand, Mango is now used by over a thousand companies across the world to automate their core compliance activities like occupational health & safety, quality and environmental management.
"About two hours after the quake hit, I got a call from one of our customers in the UK. First, he wanted to know if we were all OK, second he asked if our homes were still standing and third he wanted to know how come Mango was still up and running," says Rogers.
Over the coming days similar calls and emails flooded in from customers around the world but it was the local clients who were most grateful for having Mango in place.
"For our local clients, the earthquake obviously threw them a lot of curve balls from a compliance management point-of-view. There was a lot of business disruption and therefore a lot of health & safety, quality and environmental management issues to deal with. Imagine if Mango - the system they rely on to manage such issues - hadn't been available? That would have been a disaster for everyone."
But as Paul Allott, general manager of local civil engineering company, Rooney Group explains, Mango was never an issue: "The disaster presented us with a lot of issues, but also a lot of opportunities. Being able to rely on Mango during those critical first few weeks was key to those efforts."
Ironically it was also a local company who became Mango's first new client after the quake. Whilst they'd previously looked at switching to Mango, they'd been concerned by the fact that it was a cloud service (as all their other systems were in-house). Then, suddenly unable to access their own in-house IT systems, migrating to the cloud went from being a perceived business risk to a mitigation strategy.
And as Peter Rogers concludes "Terrible as it was, the earthquake actually helped position our business - and cloud computing in general - in a very positive light. It certainly tested the business model and proved to the doubters that, when done right, it's actually more robust than the alternatives."
"Of course, data centres are supposed to withstand large earthquakes," says Erin Salmon, managing director at Unleash, "but it has been a great endorsement of our facility to have demonstrated this in practice."
In fact, within hours of the earthquake, Unleash was helping customers relocate equipment into its data centre from other premises which had been damaged or were without power, cooling or internet connectivity.
"Since the earthquake we've seen a significant increase in interest in our services," says Salmon. "The earthquake has reminded people how important business continuity is, and we're seeing a much higher level of interest in hosting services."
About Mango
Mango provides cloud-based software solutions that reduce the amount of time and effort required to manage compliance activities like health & safety, quality and environmental management. http://www.mangolive.com
About Unleash
Unleash specialise in providing hosting and high speed internet connections to small and medium sized businesses, particularly in the IT and software development industries.
Born in Christchurch in 2003, Unleash now has four data centres across New Zealand. In 2008, Unleash opened a new data centre in Christchurch with space for over 3,500 servers. http://www.unleash.co.nz
Contact Information
Mark Simon
Phone: +64 21 664 606
Email: mark(at)mangolive(dot)com
# # #