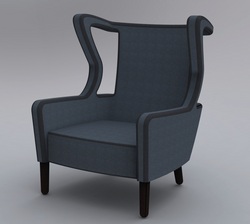 The students' obvious talent and passion for eco-friendly design as 'the right thing to do' has been energizing for everyone involved.
Minneapolis, MN (PRWEB) October 20, 2010
Following months of rising anticipation, consumer interest, and more than 4,000 online votes, the Project UDesign competition has culminated in a winner. Savannah College of Art and Design (SCAD) student Ryland Quillen was awarded the coveted honor this morning at the famous High Point Market, the world's largest home furnishings trade show.
The winning design, Alifair, received 1,881 votes from consumers and members of the home furnishings industry attending the High Point Market. During the award presentation, the designer was cited for his unique interpretation of the wing chair's function in a contemporary living room setting.
Designs and related video footage are displayed on Cargill's Experience BiOH® blog and You Tube channel.
Project UDesign was sponsored by Cargill's Biobased Polyurethanes business unit–makers of the soy-based ingredient which replaces a percentage of petroleum in foam used for upholstered furniture cushioning.
"The attention Project UDesign has garnered here at the High Point Market, as well as online from the public and the media over the past few months, has been quite significant – confirming that consumers and the trade want to see more sustainable products in the marketplace," said Yusuf Wazirada, Cargill's Biobased Polyurethanes business unit leader.
"Sustainability is about more than being 'green' and using eco-friendly products and processes. It's also about investing in our futures," said SCAD B.F.A. furniture design student Ryland Quillen, a resident of Johnson City, Tenn.
North Carolina-based Century Furniture, a 2009 AHFA SAGE award finalist and Sustainable Furnishings Council member, has pledged to manufacture the new wing chair, the first furniture design to be crowdsourced prior to production. According to officials from Century Furniture, they will begin manufacturing the winning chair early next year. It will be available for purchase by consumers in 2011.
As the winning designer, Quillen will receive a royalty for each unit of the chair Century sells. He was also awarded a $1,000 prize from Cargill's BiOH® polyols business during the ceremony. Runners up in the competition received gifts from co-sponsor Toray International, makers of Ultrasuede® EcoDesign™ upholstery covers.
"The Project UDesign Competition has been a rewarding experience for the students who participated, but it's been an equally rewarding endeavor for all of the sponsoring companies involved," said Helen Brier, sales and marketing manager, Interiors, Toray International. "The students' obvious talent and passion for eco-friendly design as 'the right thing to do' has been energizing for everyone involved."
"Just because it's sustainable, doesn't mean it has to look it, or even flaunt its sustainable message," said Matt Gray, SCAD M.F.A. furniture design student, and another competition favorite.
While Ryland Quillen noted, "Using sustainable materials in my design not only makes my chair earth-conscious, but also means that my piece will stand the test of time and become an heirloom passed through future generations."
"Design is becoming a hub for collaboration, where the design world is colliding with the green world," said Emily Carpenter, SCAD B.F.A. furniture design student, and Project UDesign finalist.
Along with the furniture design department at Savannah College of Art and Design, Project UDesign co-sponsors included Century Furniture, which will produce the chair's finished frame from sustainably harvested and certified woods.
About Cargill
Cargill is an international producer and marketer of food, agricultural, financial and industrial products and services. Founded in 1865, the privately held company employs 131,000 people in 66 countries. Cargill helps customers succeed through collaboration and innovation, and is committed to sharing its global knowledge and experience to help meet economic, environmental and social challenges wherever it does business. For more information, visit http://www.cargill.com.
About Toray International brand Ultrasuede®
Ultrasuede® is used across a broad range of platforms and in multiple industries, meeting consumers' demand for the use of more ecologically friendly products. Ultrasuede®, together with Toray technology, continues to innovate and develop environmentally sensitive products, with the ongoing goal of improving ecological and social conditions around the world. Launched in 2009, EcoDesign™ products deliver on the promise of the TUA commitment to excellence through environmental responsibility. For more information, visit http://www.ultrasuede.com.
About Century Furniture
Century Furniture manufacturers fine furniture for bedroom, dining room furniture and living room. Since 1947, Century Furniture has strived to be the best furniture company in the world, providing finely crafted luxury furniture with impeccable design, highest quality and legendary service to its customers. Now a third generation, family owned company, Century is located in Hickory, North Carolina and employs more than 900 associates. Each employee is a company shareholder and their commitment and dedication can be seen in every piece of furniture made. For more information, visit http://www.centuryfurniture.com.
About SCAD: The University for Creative Careers
The Savannah College of Art and Design is the most comprehensive art and design university in the world, offering more degree programs and specializations than any other art and design university. SCAD is a private, nonprofit, accredited institution conferring bachelor's and master's degrees in distinctive locations and online to prepare talented students for professional careers. SCAD offers students a choice of degree programs in 46 majors and more than 50 minors at locations in Savannah and Atlanta, Georgia; in Lacoste, France; online through SCAD eLearning; and in Hong Kong beginning this fall. For more information, visit http://www.scad.edu.
Contact: Leslie Newby, Brand Communications, Inc., 336-370-4623
leslie(at)workthebrand(dot)com
Pete Stoddart, Cargill, 952-742-6608
petestoddart(at)cargill(dot)com
# # #