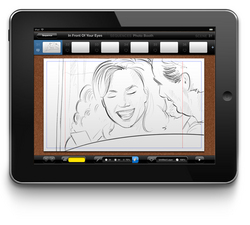 This is the next generation of storyboarding
Palatine, IL (PRWEB) October 27, 2010
SketchPad: A Filmmaker's Storyboard, available soon from Tikibone, LLC, will become the way savvy filmmakers develop their next award-winning projects application. The iPad app improves on all the vital tools necessary to develop a complete movie storyboard absolutely anywhere. Easy to learn, SketchPad lets users in diverse fields, such as business, education and more, to map out their ideas visually. SketchPad: A Filmmaker's Storyboard heralds the next generation of storyboarding.
The app is as powerful as it is stylish. As simple and mobile as sketching on a paper pad, SketchPad for iPad adds sophisticated tools up until now available only with sophisticated computers or heavy, cumbersome laptops. While those programs have steep learning curves, SketchPad's uncluttered interface and intuitive controls mean users can be productive shortly after they download the app.
Conventional storyboarding is a laborious process. Each new scene requires a separate sheet of paper. A serious error, damage or loss means the artist has to throw out the paper and start again. Sharing the finished storyboard means shipping it, sometimes across great distances and always at great cost, hoping it doesn't get lost or damaged in transport. The editing process is protracted as well. Even if writing partners or studio reps email their requested changes, it still takes time to draw up new storyboards and send them off all over again.
SketchPad eliminates all these hassles and more. Storyboard directly on the iPad's virtual paper. No matter how many pages, the storyboard never gets heavier or more difficult to carry. SketchPad's synthetic pressure sensitive design means users can easily mimic the very same brush effects artists achieve on paper. Not an artist? Not a problem, Import photographs for easy integration into storyboards. Want to stay traditional? With a print feature, you can print up to 11x17, 6 panels page.
But it's in sharing storyboards that SketchPad shines. Export completed storyboards or storyboards in process as PDFs or in Photoshop format and share them with anyone in the world instantly, with no damage in transport. Collaborate across any distance. Make requested changes in hours, not days.
Sign up at http://sketchpad.tikibone.net/ and be among the first to learn when SketchPad: A Filmmaker's Storyboard for the iPad is available from the Apple App store.
SketchPad is currently under development for iPad IOS 4.2.
About Tikibone, LLC
Tikibone is a new force among app developers, working on the next generation of bigger, faster, stronger apps for iPad, iPhone and iPad iPod touch SketchPad will be their first app, after which users will break down their doors to find out what's next.
Contact
Roger O. Trier Jr.
Chief Creative Officer | Founder
847-848-5698
rotrier(at)tikibone(dot)net
###