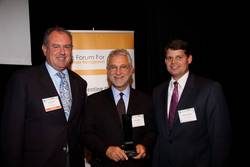 This award, because it was determined by a group of both clients and peers, is extra special to us
Washington, DC (Vocus) October 18, 2010
Bolliger, Inc., a 100-year-old international moving company and the latest acquisition of The Secor Group–a global mobility, logistics and transportation company–has won The Forum for Expatriate Management's (FEM) American EMMA Award for International Moving Company of The Year. The inaugural award was presented in New York at a ceremony following the FEM's Global Mobility Summit.
The Expatriate Management and Mobility Awards (EMMA) were created by the FEM to celebrate excellence and innovation in global mobility programs as well as to recognize the performance of service providers in supporting the ambitions of corporate programs.
"This award, because it was determined by a group of both clients and peers, is extra special to us," said Chuck Lawrence, CEO of the Secor Group. "We've spent a lot of time and resources in the last year to better align our services with what our customers want and need. This is a validation of those efforts and will serve as an inspiration for all Secor Group companies to continue to deliver award-winning performance."
Secor Group companies were also finalists in two other categories: Most Innovative Use of Technology in Global Mobility for the innovative web-based relocation management system RedSky™, and Best Vendor Partnership for Security International's work with the International Monetary Fund.
Awards were determined by a distinguished panel of 13 industry stakeholders that assessed the submissions received against the criteria set for each Award. Judges were not involved in judging a category where their company has entered or where the judge has a direct or indirect interest in any submission.
"We are honored to accept this EMMA, and we look forward to another award-winning year!" added Lawrence.
About Secor Group:
The Secor Group is a global mobility, logistics and transportation company. Headquartered in Washington, DC, the Secor Group's roots date back 120 years to the oldest storage company in our nation's capital – Security Storage Company. Founded more than a century ago, the Secor Group has emerged as an international leader, with fourteen transportation and storage companies under its corporate umbrella. From global mobility services to logistics management, office moving to heavy freight hauling, to large scale storage of more than 1 million square feet, the Secor Group companies comprise every aspect of the industry. In everything we do, we are accountable, ambitious, responsible, engaged with customers and ready for change. These are the principles upon which we build our business – to be commercially astute, to accelerate innovation and minimize environmental impact, to earn competitive returns and contribute to our clients' prosperity – and, it is in our outstanding people in which these ideals live. The Secor Group company portfolio includes: Security Storage Company, Federal Forwarding, Federal Moving and Storage, Security International, Security International Logistics, DD&S Express, DD&S Brokerage, Davidson Transfer and Storage, Davidson Forwarding, JVSS, A Alpha, RedSky LLC, and Bolliger. For more information, visit: http://www.secor-group.com
About Bolliger:
Bolliger is the most trusted name in international household goods moving in the tri-state (NY, CT, and NJ) area. Over 100 years old, it is a venerable institution in the New York metropolitan marketplace known for its high quality service and excellent accounts. Since 1909, many of the world's leading news media, financial and pharmaceutical businesses have placed their employees' possessions in our hands – and, we have delivered them safely from Shanghai to Stockholm, Santiago to Sydney. For more information, visit: http://www.bolliger.net
###