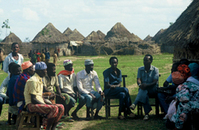 I am proud to work with this dynamic, professional, and growing organization, which now has over 600 employees in 30 countries.
Bethesda, MD (PRWEB) October 19, 2010
Bethesda, Maryland-based University Research Co., LLC (URC), a company dedicated to improving global health and social services, commemorates its 45th anniversary this month.
For the past 45 years, University Research Co., LLC (URC) has sought to combine the idealism of academic research with the pragmatism necessary in the real world. URC took its name from the founding partners, university professors who brought together talented people from the academic and scientific communities to address challenges of the 1960s and 1970s such as Head Start, hospital modernization, alcohol and drug abuse, and model cities. In 1968, URC established a non-profit affiliate, the Center for Human Services (CHS), to link more directly with community services in the US.
The late 1970s and the 1980s witnessed rapid growth: URC excelled in job competencies training and job analysis for early childhood educators, hospital personnel, drug abuse workers, criminal justice staff, and the military. URC specialized in training, technical assistance, and instructional design, successfully operating projects in substance abuse treatment, criminal justice, child support enforcement, community rehabilitation training, reducing school violence, and family planning.
For nearly 20 years, URC provided global leadership for health care quality assurance in USAID-supported programs through the Quality Assurance Project (QAP) I, II, and III, QAP provided technical assistance and conducted operations research on health care quality improvement. This work helped to raise awareness in countries and internationally that quality improvement (QI) is an essential component of health system strengthening and that quality standards and QI capacity development are vital to the development of health care systems in even the most resource-constrained countries.
In 2000, URC built expertise in health communications and social marketing, developing and implementing media campaigns to support underage drinking, asthma and heart disease; training journalists on health reporting; as well as providing organizational assessments and strategic planning support for the DC Department of Health and others throughout the East Coast.
At its 45th anniversary in 2010, URC's expertise centers on maternal, newborn, and child health; HIV/AIDS, tuberculosis, and malaria; substance abuse, reproductive health and family planning; and nutrition and infant feeding. It approaches the challenges rising from these health areas through quality improvement, health system strengthening, health communication, and research and evaluation.
"I am proud to work with this dynamic, professional, and growing organization, which now has over 600 employees in 30 countries" said URC President, Barbara N. Turner. Before joining URC five years ago, Ms. Turner served for more than 30 years with the U.S. Government, primarily within the U.S. Agency for International Development (USAID), receiving honors such as the President's Meritorious Rank Award.
Internationally, URC is engaged in improving access to and quality of maternal, newborn, and child health services; addressing infectious diseases including HIV/AIDS, TB, and malaria; and improving reproductive health and family planning services. In the U.S., URC focuses on improving communications related to issues like substance abuse, with a particular focus on reaching underserved populations.
"We have learned a great deal about how to do improvement efficiently and at scale and what factors are important in achieving results - like champions, having specific goals, using incentives for quality, and planning for scale-up and sustainability" said M. Rashad Massoud, MD, MPH, FACP, HCI Director and Senior Vice President leading URC's Quality & Performance Institute.
In conjunction with the anniversary, URC is launching a redesigned website, adding new and interactive features, project descriptions, and an extensive library of tools, resources, and job aids for use by the global health community. The new website provides access to a library of more than 300 resources, and descriptions about the nearly 150 Projects URC has worked on since 1965.
About URC
URC is a global company dedicated to improving the quality of health care, social services, and health education worldwide. With its non-profit affiliate, the Center for Human Services (CHS), URC manages projects in over 30 countries including the United States. Based in Bethesda, Maryland, URC has offices in New Jersey and Pennsylvania and about 600 employees around the world.
###