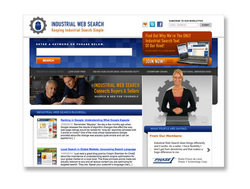 Charlotte, NC (Vocus) October 18, 2010
Industrial Web Search, the new patent-pending industrial search engine developed by marketing and web development firm Industrial Web Solutions, has done away with the limitations of legacy directory and search technologies in favor of a simpler, more direct approach that accurately matches sellers and buyers. To help buyers get what they need and sellers get 100% control to manage how they reach their targeted buyers, the engine successfully satisfies a buyer's need for quality results that are relevant and a seller's need to be found and contacted by the right buyers.
"Conducting an industrial search," notes Industrial Web Search founder and developer Joe DeMicco, "can quickly turn into an expedition, requiring buyers to delve through literally hundreds of product categories and listings that represent the whole gamut of information and product/service offerings, all relevant to the terms searched, but not specifically relevant to what the buyer is looking for. After analyzing search systems, our team of developers came up with a solution that eliminates those issues."
To start with, the integrity of the engine's listing results is maintained by including paid member sellers only. While soliciting new subscriptions, many industrial directories and search engines are pre-populated with companies found on the internet or supplied by a contact database provider. The contact information may be outdated or the company may no longer be in business. Industrial Web Search members have been vetted to ensure they provide value to the engine's users, including current, accessible and relevant listing information. Buyers are also provided with a number of convenient ways to contact sellers directly from within the tool.
Industrial Web Search has also eliminated category search altogether. Seller members are not required to fit their products and services into often limiting, pre-determined categories and/or sub-categories. "Some paid inclusion directories," states DeMicco, "charge advertisers per category, which knocks out the small business guy pretty quickly. We wanted our solution to be cost effective and fair to all sized businesses, from the local start-up to the Fortune 500 enterprise. We want buyers to have access to all good choices, not just the ones with the deepest pockets."
Seller members target buyers by using keywords and phrases, known as 'tags,' to identify their products and services. 100% relevant results are achieved by matching the words typed by the buyer to the tags used by seller members. Designed to make exact matches, the formula is simple and leaves no room for a wrong result. The system helps the buyer by suggesting related tags used by members that may represent what he is looking for. If the system cannot produce an exact match, it provides the buyer with the option to continue his search using Google, Yahoo or Bing without having to leave the application. With everything available in one spot, it makes it an attractive place to begin the search process.
Industrial Web Search is designed for industrial buyers and sourcing professionals to use free of charge, offering convenient listing and contact management tools to Registered Users. Open to industrial manufacturers and suppliers only, seller memberships are good for a full 365 days and begin at $499, making it an affordable addition to any company's online marketing toolkit. All membership levels receive a host of great features, including 100% control to add/edit tags and their company profile 24/7, integrated RFQ, and live links that allow buyers to click to connect with the member by phone, email, or through the member's website. Enhanced membership levels offer streamed video and product image galleries, tag profiles at the product level, and direct links to product pages on the member's website at the tag level.
Buyers and sellers can access Industrial Web Search from their desktop or laptop at http://www.industrialwebsearch.com or their iPhone, Smartphone or other handheld mobile device at http://www.industrialwebsearch.mobi . They can also call (800) 399-9859 for more information.
About Industrial Web Search
Industrial Web Search is a tag-based industrial search engine featuring suppliers and service providers who have paid the annual membership fee to be included. Owned and developed by Joe DeMicco and his team at Industrial Web Solutions, the engine specifically targets industrial buyers and sourcing professionals. It was launched in limited beta in April 2009. A new interface was introduced in September 2010 featuring additional management tools for members as well as a Registered User section. Available free to users, it allows them to manage their searches and communications, including Favorites, Notes, and RFQs sent through the application. A multi-platform service, Industrial Web Search can be accessed at http://www.industrialwebsearch.com and http://www.industrialwebsearch.mobi .
About Industrial Web Solutions
Industrial Web Solutions is an American marketing and development firm specializing in online and technology solutions for the industrial marketplace. To accommodate the specific needs of small to medium sized companies, owner Joe DeMicco established the company as the industrial partner to his marketing firm AIMG | Accurate Imaging. Since launching in 2007, the company has developed customizable applications for its proprietary website content management system, website modules, lead management system, document management system, online product catalog, ecommerce website, and the recently launched Industrial Web Search, an industrial search engine built using new patent-pending technology.
About Joe DeMicco
Joe DeMicco has been an online and marketing consultant for almost 20 years. He started his flagship company AIMG | Accurate Imaging in 1994. He has worked as a consultant and produced content for companies like BMW, Discovery Communications, Publicis, IDT, Robotic Industries Association, Automated Imaging Association, Hose-McCann Communications, and Excite Media Group. In 2007 he established Industrial Web Solutions, which specializes in online and offline solutions for industrial manufacturers. Joe, along with his team at Industrial Web Solutions, developed Industrial Web Search, an industrial search engine built on new patent-pending technology. His blog DeMicco.com offers business development tips.
###