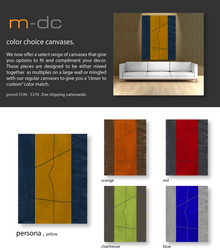 As the leading solution for affordable modern art, we have experienced double digit growth the last 2 years, despite a challenging economy.
Bridgehampton, NY (PRWEB) October 18, 2010
Modern Digital Canvas, (http://www.md-canvas.com) the nationwide leader in providing exclusive large sized modern art, today introduces a select collection of modern original images that each offer 5 color choices. M-dc design director and founder, David Diskin said "Our customers are always asking us for more options with respect to color and design. We now offer true "color selectable" art so you can find the perfect fit to any space you are working with. We have been working diligently to create a sophisticated group of "color choice canvases" to go with our existing collection of over 200 images. We are very excited about this addition to our product line." All m-dc images are designed and produced exclusively in their super-cool Bridgehampton, New York design studio.
Md-canvas.com has taken a design approach to art that previously had been unknown in the industry. "There is a lot of narrative driven artwork out there, which is great. But at m-dc we seek to fulfill the needs of our customers aesthetics first." Diskin said. "People want art that is tasteful and unique, but in this economy, they don't want to shell out a fortune for it. We provide an exceptional customer experience that fuses beyond expectation customer service, with sophisticated design sensibilities. We stand behind our quality 100% and we do so unconditionally".
Artivise inc, was the originator of the trend for large affordable modern printed canvases back in 2001. Having sold extensively to some of the nation's best known home decor brands, Md-canvas.com came online in 2004 as a niche brand and has experienced tremendous growth. In 2009 and 2010 Artivise inc has experienced strong double digit growth. The addition of a nationwide catalog in early January has brought increased interest and a growing customer base of loyal satisfied customers. Md-canvas.com has been established as the premier choice for those with discerning modern taste, but limited budgets. All "m-dc canvases" are available in 3 sizes, 3 , 4 and 5 feet and priced $199 - $379. All canvases ship free nationwide and arrive fully stretched and ready to hang.
For additional information, Contact:
David Diskin, design director, Artivise Inc. ph : 888-345-0870 fx : 877-808-6941
david(at)md-canvas(dot)com, http://www.md-canvas.com
# # #