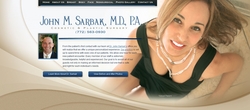 Vero Beach, FL (Vocus) October 18, 2010
At his Vero Beach plastic surgery practice, John M. Sarbak, M. D., P. A. is launching a new website aimed at improving his ability to provide safe, natural-looking aesthetic enhancement results for each of his patients. In addition to the initial consultation, he hopes the website will further supplement his current and potential patients' ability to develop their expectations, and allow them to make educated decisions regarding their plastic surgery goals.
Whether performing non-surgical procedures such as BOTOX® Cosmetic, or more invasive procedures such as a facelift in Vero Beach, Dr. Sarbak says he and his knowledgeable, experienced staff strive for natural-looking results when creating a more youthful, vibrant appearance. He adds that while today's technology can often provide new and different ways of performing plastic surgery procedures, he pays strict attention to the individual details, and personalizes his approach to each patient's cosmetic enhancement desires regardless of the procedure.
In addition to the common types of breast augmentation procedures, Dr. Sarbak offers the transumbilical breast augmentation in Vero Beach (TUBA), and provides an in-depth explanation of the benefits of this procedure through his new website. While traditional breast augmentation procedures are still more popular than TUBA, Dr. Sarbak says he has been performing this procedure regularly since 2004, and has found that the placement of the implant is often more accurate.
Because Dr. Sarbak remains on the cutting-edge of breast augmentation and plastic surgery in general, he says it was important to him to choose a medical website design firm that matched his innovative spirit. In collaboration with Rosemont Media™ in San Diego, Dr. Sarbak has created an interactive website that provides detailed descriptions of every procedure he performs, a doctor biography, and a before-and-after photo gallery. In addition, the website also contains patient testimonials and a social media button to Dr. Sarbak's Facebook page, as he says he hopes to create an online community where all of his patients are able to interact and further ease any concerns they may have.
About Dr. Sarbak
Dr. Sarbak earned his medical degree from the University of Pittsburgh School Of Medicine, and completed his general surgery residency at the University of South Florida. He completed his plastic surgery residency at the University of South Florida and the University of Pittsburgh. Dr. Sarbak is a member of the American Society of Plastic Surgeons, the American Society of Aesthetic Plastic Surgery, and the Florida Medical Association. He is certified by the American Board of Plastic Surgery, and travels annually to South America to offer his abilities as a plastic surgeon to children born with congenital deformities.
Dr. Sarbak's plastic surgery practice is located at 3735 11th Circle, Ste. 203, in Vero Beach, FL 32960, and can be reached at (772) 563-0930 and http://www.drsarbak.com
###