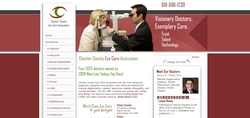 Exton, PA (Vocus) October 19, 2010
The American Academy of Ophthalmology (AAO) estimates that nearly 188 million Americans are affected by common eye conditions such as nearsightedness and astigmatism. Chester County Eye Care (CCEC) is helping patients transition from the lazy days of summer to a productive fall season with the array of procedures the eye doctors in West Chester provide. The doctors at CCEC say regardless of whether their patients need treatment for eye diseases such as macular degeneration, glaucoma, or diabetic retinopathy, desire cosmetic rejuvenation with BOTOX® Cosmetic, or are considering vision correction procedures such as LASIK in West Chester, they strive for optimal results to meet the expectations of each patient.
The AAO study shows that while nearly 700,000 LASIK procedures were performed in 2009, contact lenses and eyeglasses are still the most common treatment for refractive errors. However, the eye doctors in Chester County say vision correction through procedures such as LASIK provides greater convenience by reducing dependence on corrective eyewear, thus enabling their patients to enjoy the remaining days of summer with improved vision as they approach the upcoming fall season.
In addition to providing eye surgery in West Chester, the doctors at CCEC say they are helping patients by rejuvenating their sun-damaged skin with cosmetic procedures such as BOTOX® Cosmetic and blepharoplasty in West Chester. The Center for Rejuvenation is a division of CCEC, and the doctors say the ability to provide cosmetic treatments creates a unique opportunity for their patients because of their extensive experience in ophthalmology and specialized cosmetic training.
Whether performing cosmetic rejuvenation to fight the signs of aging and summer damage, vision correction procedures as their patients head back to school and work, or treating diseases such as glaucoma or macular degeneration, the doctors at CCEC say they are prepared to help their patients transition from summer fun to the fall harvest.
About Chester County Eye Care Associates
Chester County Eye Care Associates has been providing eye care to Chester County, Pennsylvania and surrounding areas for over 35 years. The board-certified doctors employ the latest, most-advanced diagnostic equipment, and CCEC is the only practice in Chester County to perform many of the latest eye procedures, such as synthetic iris implant surgery and Intralase no-blade LASIK. They also actively contribute to the advancement of eye disease treatment through participation in clinical trials concerning new medicines, methods of treatment, and FDA protocols.
CCEC has three locations in the Chester County area: Fern Hill Medical Campus at 915 Old Fern Hill Road, Bldg. B, Ste. 200 in West Chester, PA 19380; Commons at Oaklands at 740 West Lincoln Highway in Exton, PA 19341; and So. Chester County Medical Center, Medical Office Bldg. 1, Ste. 203, 1011 West Baltimore Pike in West Grove, PA 19390. CCEC can be reached at (610) 696-1230 or http://www.chestercountyeyecare.com/index.php
###