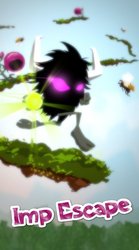 Indianapolis, IN (Vocus) October 19, 2010
The new entertainment piece 'Imp Escape' is released by KOP Games on iTunes App Store. Users have the ability to guide the main character 'Imp' by drawing his path as he runs along. The main aim of the game is to take Imp as far as possible without running into monsters or falling off the path.
"What we like about this game is that you have the freedom to draw the path however you want. You can draw anywhere on the screen to succeed in taking Imp further. Each player can come up with their own style and strategy, and it is such a unique experience!" says Dogan Demir, Co-founder of KOP Games about Imp Escape.
The game features a global leaderboard where users can see how they compare with other players and compete to be on top of the list and see their progress. For higher points users can have Imp collect power-ups to unleash new bonuses.
Imp Escape, currently available for the iPhone and iPod touch, can be purchased from Apple's App Store. For more information, visit http://www.kopsoftware.com.
Game Trailor: http://www.youtube.com/user/KOPSoftware#p/a/u/0/CN3FxZUANu8
iTunes Link: http://itunes.apple.com/us/app/imp-escape/id393872202?mt=8
KOP Software:
Founded in 2009, KOP combines its expertise and research in areas of software development, computer graphics and visualization. The project spectrum varies from games to navigation systems and advertorial applications on mobile devices. KOP has worked with highly recognizable companies from around the world. KOP's goal is to create innovative products that bring future technology to present day.
Metin Nacar
KOP Software
+1-317-657-6589
mnacar(at)kopsoftware(dot)com
###