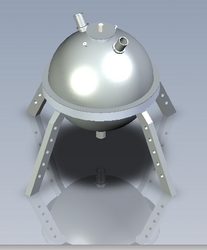 COO Bob Knight commented that the Corporation was in discussions with other potential licensee's and that the licensing program was being well received, additional agreements are expected over the next few months.
Las Vegas, NV (PRWEB) October 20, 2010
MiPod Nuclear Inc. agrees to first territorial license agreement under its plan for worldwide commercial deployment of its medical isotope production on demand technology.
The agreement with Licensor Vector Trading Corporation Pty/Ltd. covers the territories of Australia and New Zealand. Under the MiPod technology licensing program licensors pay an option fee to reserve territories, agree to pay a licensing fee and ongoing royalties. MiPod provides the technology, all materials, equipment and ongoing support. Licensors are responsible to obtain any requisite approvals for manufacture and distribution.
Licensing fees are calculated based on a percentage of published health care spending in each region with the total potential licensing fees worldwide valued at well over $264,000,000.00. MiPod expects to enter into additional territorial licensing agreements in the near future and is currently in negotiations with potential support and deployment partners.
The innovative technology facilitates the production of Mo-99 (the decay parent of Tc-99m) without the use of a reactor or highly enriched uranium in regional production centers. The patent pending process utilizes depleted uranium as the target media which is irradiated by a fast neutron generator in a proprietary chamber design. The Mo-99 is separated from the depleted uranium matrix after irradiation using an advanced electrolytic separation technology. After removal the depleted uranium is reconstituted and reused in additional production cycles in a closed loop environmentally sustainable and highly cost effective system capable of daily delivery of production.
MiPod Nuclear Inc. is a private company headquartered in Las Vegas, Nevada. It's officers and directors are: Ted King, Chairman, Bob Knight COO, Dr. Francis Tsang CTO all of whom also serve as directors, Troy Wade of Las Vegas and Dr, Jean-Claude Gehret of Switzerland are independent directors.
# # #