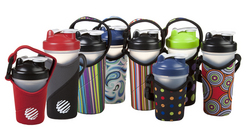 Spandex for your BlenderBottle.
Pleasant Grove, UT (PRWEB) October 19, 2010
The popular BlenderBottle® brand portable mixers are now even easier to take along with you anywhere, thanks to the new BlenderBottle insulated slings. Sundesa, LLC today announced the availability of the insulated slings, the newest addition to the wildly popular BlenderBottle shaker cups. The slings are available in a variety of colors and patterns, and are designed specifically to fit both the regular 28-oz and "mini" 20-oz bottles.
Made of durable Neoprene, the slings feature a locking clip and slip-resistant rubberized base. In addition to making the BlenderBottle mixers easier to carry, the insulated slings help keep drinks cooler longer and eliminate "bottle sweat".
The insulated slings are currently available at http://www.blenderbottle.com, and will soon be available at major retailers where other BlenderBottle products are sold.
About the BlenderBottle® mixer
As effective as it is unique, the patented BlenderBottle® brand portable mixer will effortlessly mix lump-fee protein drinks, nutritional supplements and meal replacement drinks. It is also great for mixing eggs (omelets, scrambled, French toast), pancake batter, gravies, homemade dressings and marinades, pudding, yogurt smoothies and much more!
The key to this unique product is what's inside—the BlenderBall® wire whisk ball. It's made of electro-polished 316 surgical-grade stainless steel, and moves freely through the bottle breaking up lumps and smoothly mixing the contents.
This patented shaker has been hailed by Good Morning America, Reader's Digest, The Nibble and others as one of the "hottest new products" on the market. BlenderBottle products are available in over 10,000 retail locations including GNC, Rite Aid, Vitamin Shoppe, Whole Foods, Vitamin World, Amazon and many others. Learn more at http://www.blenderbottle.com.
About Sundesa, LLC
Founded in 2004, Sundesa, LLC is a privately-held manufacturer of clever problem-solving products, like the #1 selling BlenderBottle portable mixer, that help simplify everyday life. The company is located in Pleasant Grove, Utah and markets and sells its products to retailers and resellers worldwide.
###