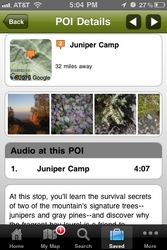 Anyone who has ever listened to an audio tour, podcast, or museum guide knows how much value audio adds while discovering a new location
Palo Alto, CA (PRWEB) October 20, 2010
EveryTrail, the leading online and mobile travel app, announced the launch of Audio travel guides for iPhone. Audio guides are unique interactive tours that consist of detailed descriptions, maps with exact routes to follow, and Points of Interest including photos, videos, and now audio.
Enabling EveryTrail iPhone Travel Guides with Audio is another major step for EveryTrail in leading the transition of the travel information market into the mobile age. Audio-enabled guides let travelers be fully immersed during walking tours, scenic drives, hikes and other sightseeing experiences using the earphones of their iPhone, iPad or iPod Touch.
Currently EveryTrail Audio Guides are available for selected popular tours in the United States including the Brooklyn Bridge Walk in New York City, Half Dome Trail in Yosemite National Park, Mount Diablo near San Francisco and Acadia National Park in Maine.
"Anyone who has ever listened to an audio tour, podcast, or museum guide knows how much value audio adds while discovering a new location. It enables you to learn noteworthy and fun facts while being fully immersed in the story behind the sights you are viewing," said Chris McCarty of EveryTrail.
Mobile Travel Guides can be created by any of EveryTrail's 225,000 worldwide members, as well as professional content partners such as Destination Marketing Organizations and Travel Guide Publishers. EveryTrail's Guide market place enables travel publishers to share their knowledge while earning a revenue share for each guide purchase. Currently Audio Guides are available from EveryTrail community members as well as from launch partners Save Mount Diablo and Nature Pods.
One of the first EveryTrail audio guides is Mount Diablo's Grand Loop. In partnership with Save Mount Diablo, Joan Hamilton has added 40 minutes of audio clips to her guide for travelers to enjoy while exploring California's historical and majestic Mount Diablo region in California.
Only half of Mount Diablo's sensitive habitat has been preserved leaving the other 80,000 acres at risk of development and becoming lost forever. Save Mount Diablo preserves, defends and restores the natural lands on Mount Diablo and its foothills for wildlife and people to enjoy. Mount Diablo's audible Grand Loop tour is an entertaining way to learn about the history and wildlife surrounding one of San Francisco Bay Area's most significant landscapes.
About EveryTrail and GlobalMotion Media: The next generation EveryTrail iPhone and Android apps let users search, download, navigate and share trips while on the go. Users can explore hundreds of premium Guides, ranging from the best hikes in California, to New York City's best walking tours and more than 400,000 user-generated trips from over 140 countries. At the same time, travelers can record and instantly share experiences on EveryTrail and other social sites, such as Twitter and Facebook. The company is headquartered in Palo Alto, California and is online at EveryTrail.com.
# # #