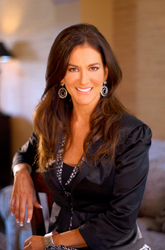 I am truly honored to be selected as a finalist for the Ethan Award
San Diego, CA (Vocus) October 18, 2010
Allison Maslan is accustomed to top finishes. But even Maslan was surprised at being named a finalist in the in the fifth annual Ethan Awards. Maslan recently completed a national "Rocket Tour" for her book "Blast Off!" that included book signings in Denver, San Diego, Los Angeles, San Francisco, Chicago, Dallas, Phoenix, New York City, and Cleveland. Major media appearances, selection of her book as 'Book of the Month' and top rankings on Amazon.com have shown the interest in Maslan who has been dubbed "The One-Woman Stimulus Package" by the press.
Pleased with being nominated, Maslan says she is humbled being named a finalist.
"I am truly honored to be selected as a finalist for the Ethan Award," Maslan said. "My vision in writing my book, Blast Off, has been to inspire as many people as possible to bust open the doors to their dreams and give them the tools to make it happen. So for me, the more recognition that my book receives, the more my vision becomes a reality."
The Ethan Award™ is set to become one of the literary world's most sought-after awards The Entrepreneurial Author™ Awards are the only international, all-encompassing entrepreneurial author awards program, governed by a Board of Distinguished Judges and Advisors honoring great performances in the workplace.
Maslan is not only an entrepreneurial author, but a successful business woman. She is making a real difference. More than 100 of her readers and clients are starting new careers, opening new businesses and channeling their passions into profitability.
"In traveling across the US for my book tour, I have been so touched by the stories people have shared with me on how my book, Blast Off has been giving them the tools to reach their dreams, Maslan related recently. "From the teacher to the executive to the stay at home mom, they are breaking through their obstacles and creating a much more passionate, satisfying and rewarding life. That is what it's all about! "
Members of the Ethan Awards' Board of Distinguished Judges & Advisors and their staffs select Ethan Winners from among the Finalists. Finalists were chosen by over 50,000 votes from readers nationwide during preliminary judging in May through August.
The elegant Ethan trophy was designed by R. S. Owens, the same company that makes the Oscar and the Emmy. Details about The Entrepreneurial Author™ Awards and the list of Nominees are available at http://ethanaward.com/category/finalists/
About Allison Maslan
Allison Maslan has been regarded as the most results oriented strategic life and business coach in the country. She has not only launched thousands of clients into healthier, happier lives and many into passion- filled businesses of their own, Maslan absolutely walks her talk.
Starting her first business in college in 1985, Maslan went onto to build eight more successful companies while raising her daughter on her own. She also used her success formula to manifest and marry her soulmate five years ago.
One of Allison's passions is to fly high on the flying trapeze, which she feels is a metaphor for life and business. Climb the ladder, put your head toward your goal, and jump in with both feet! This is the perfect flight plan to mix inspiration, passion and success.
Her new book, Blast Off! The Surefire Success Plan To Launch Your Dreams Into Reality, was just released in January 2010 and hit best selling lists in the US, Canada and UK. Allison was recently nominated for the San Diego Business Journal's Woman Who Mean Business Award and is a finalist for the 2010 Ethan Awards given to entrepreneurial authors.
Stay connected with Allison Maslan on Facebook and Twitter and at her website: http://www.MyBlastOff.com
Media Coverage on Allison Maslan: http://www.myblastoff.com/Media-Coverage.html
About The Ethan Awards™
The Ethan Awards™ mission is to raise the profile of exemplary authors among the press, the community, and the general public. The Ethan Award™ is set to become one of the literary world's most sought-after awards. Learn more about The Ethan Award™ at http://www.EthanAward.com
Premier sponsors of The 5th Annual Ethan Awards™ include Morgan James Publishing, Author101University.com, FiledBy.com, BookDaily.com and our media sponsor is Newswire.net.
###