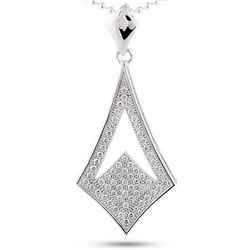 The quality, feel, and sparkle of these sterling silver jewelry pieces encrusted with fine micro pave cubic zirconia diamonds are unique and exciting
Los Angeles, CA (PRWEB) October 19, 2010
Jewelry Payless.com announces the launch of the Serendipity Collection, a new product line featuring refined sterling silver jewelry with cubic zirconia micro pave stones. The collection features high end precision workmanship not often found in sterling silver design. Delicate style with a striking resemblance to gold and diamonds mark the elegant nature of the collection. As the cost of gold skyrockets, sterling silver has emerged as a fashionable alternative as well as a sound investment given its recent precipitous rise in value.
The Serendipity Collection is an assortment of pendants, rings, necklaces, and earrings made from sterling silver with sparkling cubic zirconia stones. A cubic zirconia stone is synthetically created and designed to emulate the beauty of a flawless diamond. The collection features CZ stones secured in a micro pave setting. Micro pave is a technical term for small stones that have been hand set with extreme precision. Furthermore, every piece in the collection maintains a high polished rhodium plated finish similarly used in the enhancement of white gold jewelry.
Susan Olsen of Jewelrypayless.com comments, "The quality, feel, and sparkle of these sterling silver jewelry pieces encrusted with fine micro pave cubic zirconia diamonds are unique and exciting as the vast majority of silver jewelry in market does not feature finely set stones due to the cost it takes to produce them." Jewelry Payless intends to expand its Serendipity Collection in the foreseeable future.
About Jewelry Payless
Jewelry Payless is a leader in sterling silver jewelry for women. They offer the trendiest, most affordable sterling silver jewelry for women and men. The product line encompasses rings, earrings, pendants, necklaces, bracelets and much more. Jewelry Payless is constantly regularly adding more products based on the latest designs and current trends. To view these products and to learn more about company, go to http://www.jewelrypaylesss.com or call toll free at 1-877-729-5374.
# # #