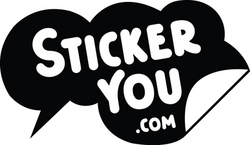 Toronto (PRWEB) October 19, 2010
Stickeryou.com and Bernardin Ltd announce the launch of an exciting new partnership that solves the biggest problem for home canners...how to personalize their jars!
From the company who brought you personalized die-cut stickers, StickerYou is now offering fully customized food labels for all your canning needs. Now every household chef, whether seasoned or amateur, mom or dad, can become a household culinary brand. For those who are canning their own jam, sealing their own sauce or preserving their own pickles, they can now create their own personalized labels at http://www.StickerYou.com from the convenience of their own computer!
As canning season returns, StickerYou has partnered with Canada's most trusted home canning brand, Bernardin Ltd. People can now go to the official http://www.bernardin.ca website or http://www.stickeryou.com/special/bernardin.aspx and create their very own personalized StickerYou label, specifically shaped to fit onto world famous Bernardin jars and lids.
Culinary designers and home chefs alike can select their personalized text, font, colours, graphics or even upload their own images to create their custom label design. Messy handwriting is a thing of the past and today's sleek, easy-to-read labels are what's hot. Once users upload their artwork or choose from a selection of StickerYou designs, the order is placed, the labels are printed and shipped all within a week, to anywhere in the world.
StickerYou uses cutting edge technology that creates removable, weather-resistant, dishwasher and microwave safe, vinyl die-cut labels to suit every need. There is no minimum quantity or set up costs and the labels are affordable at only $6.99 a sheet. Use these food labels on this season's preserves to keep them organized, to design unique personalized gifts for the holiday season or to create your own brand for personal selling.
"Nowhere else on the internet can you create vinyl, home-canning labels with this level of personalization for under $10," said Andrew Witkin, President of StickerYou. "What we've created is an easy-to-use label-maker for all ages. Even those with limited computer experience will have an easy time with our tool."
Along with the launch of labels for Bernardin jars, StickerYou has also made available labels for events and for home organization.
"For years we have had thousands of consumers who have requested a quality personalized label solution for their canning," said Bernardin Chef Emerie Brine. "StickerYou has developed a creative, unique label solution for our consumers and we are thrilled to provide the Bernardin label solution on our website."
For 100 years as Canada's most trusted leader in home canning products, Bernardin Ltd has provided customers with the tools and expertise to preserve food all year long. With a diverse range of products and recipes, Bernardin specialists test and tailor everything to Canadian standards and tastes.
Based in Toronto, StickerYou is the only online platform for custom die-cut stickers. StickerYou was founded in 2008 by Andrew Witkin, who was inspired during a walk on Los Angeles' Manhattan Beach. It was on this beach where he noticed the effect that stickers had in creating the local scene and culture, but realized how difficult it is for individuals to create custom stickers themselves. He took this innovative concept and created StickerYou.
Available for interviews:
Andrew Witkin, President of StickerYou
Chef Emerie Brine of Bernardin
For more information visit:
http://www.stickeryou.com
For media inquiries please contact:
Pennant Media Group
Kevin Pennant kp(at)pennantmediagroup(dot)com
Toronto 416.596.2978
Los Angeles 818.748.7517
###