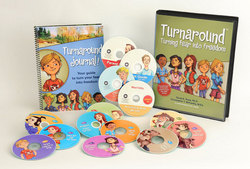 Charlotte, NC (Vocus) October 19, 2010
Charlotte Today with Colleen Odegaard hosted a panel of experts to discuss childhood stress and anxiety. On the panel was Christopher McCarthy of Informed Therapy Resources (ITR) and co-author of Turnaround: Turning Fear Into Freedom, a comprehensive audio program for the treatment of child anxiety and stress. Mr. McCarthy discussed four top stressors that children face: 1) Academic performance- maintaining good grades, keeping up with homework and projects, and the pressure to please their parents. 2) Transitions- When children move, switch schools, move up a grade, or experience transitions from parental separation, divorce, or death. 3) Peer relationships- making and maintaining friendships, feeling rejected, and the drama of social cliques and the popularity quest. 4) Overcommitment- The amount of time in after-school activities has skyrocketed over the past decade. The time today's children spend at sibling's activities has increased 6 times over the past two decades. Time management is now a necessity for many children leading to further stress. Mr. McCarthy advised parents to evaluate their children's activities and to make sure they are being their child's advocate rather than an additional source of stress.
Dr. Kerry Van Voorhis is the Medical Director for Levine Children's Hospital. He covered the tell-tale symptoms related to childhood stress including headaches, shoulder and neck pain, upset stomach, irritability, loss of concentration, and struggles with sleep. Concerned parents should take their child to their pediatrician or counselor if they notice symptoms persisting longer than expected, i.e. midterm exams or a deadline for a major project.
Dr. Francis Van Voorhis is a homework expert for John Hopkins. She stated that the nationally recognized standard for homework, supported by research and the national PTA, was that children should have about 10 minutes of homework per grade level, per day. For example, if a child is in the third grade, he or she should have no more than 30 minutes of homework per day, with possibly 15-20 minutes of reading at bedtime. Parents need to work with their child's teacher to make sure the amount of work is appropriate for their child. To see the full segment in its entirety, follow this link- http://www.wcnc.com/charlotte-today/Help-kids-manage-stress-104710124.html
Christopher McCarthy and his partner Dr. David Russ have developed a professional audio program designed for anxious children who struggle with anxiety and stress disorders such as Separation Anxiety, Obsessive Compulsive Disorder (OCD), Generalized Anxiety Disorder (GAD), Social Phobia, Panic Attacks, and other childhood fears. Turnaround: Turning Fear Into Freedom is a major innovation in the treatment of child anxiety. No other treatment solution available today combines the professional, creative, and child friendly designed features found in Turnaround. Visit myanxiouschild.com for further information.
Turnaround is based upon cognitive-behavioral therapy (CBT), which has shown conclusive results in the treatment of children with anxiety and depression. The program invites the listening child to join six other anxious children on an imagined 10 day hiking trip with two "Docs" Chris and David, and a mentor teen named Emily. Emily acts as the narrator and guide, while the "Docs" lead the children though each day's adventurous lesson. Along the journey, the children meet imaginary characters that make learning the anxiety reducing techniques easy and fun. The talents of 14 child actors and 6 adult actors were utilized to make Turnaround an audio adventure they'll want to listen to again and again. That's the beauty of Turnaround; the kids are learning scientifically researched anxiety busting techniques in way that feels fun, friendly, and emotionally engaging.
The Turnaround Audio Program includes:
Turnaround Program for kids (10 CDs)
Turnaround Journal, a 74 page workbook for kids
Chill Kit, relaxation guide for kids (1 CD)
Parent Guide, packed full of helpful information and techniques to help parents (2 CDs)
A bonus CD titled Med FAQs in also included. Med FAQs is an interview with nationally recognized Neuropsychiatrist, Dr. James Lee, offering a comprehensive discussion on the medications used to treat child anxiety is also included.
For additional information on the news that is the subject of this release or for a demo, contact us at info(at)myanxiouschild(dot)com or call ITR at (704) 208-4304. Please visit http://www.myanxiouschild.com to learn more about Turnaround: Turning Fear Into Freedom™.
Thanks to Charlotte Today and Colleen Odegaard for having Christopher McCarthy on the show!
About Informed Therapy Resources, LLC. (ITR):
Informed Therapy Resources (ITR) is dedicated to creating mental health treatment programs that are scientifically based, proven clinically effective, and professionally developed- using creative, eye-catching audio visual materials
David Russ, PhD, Psychologist
Dr. David A. Russ is President and a Licensed Practicing Psychologist of Carolinas Counseling Group in Charlotte, NC. He and his partners have built a busy practice with 11 clinicians. His doctoral dissertation was original research about a novel treatment for anxiety. He is co-author of the book, "More Than Me," published by NavPress. Dr. Russ has been an adjunct or visiting professor for four different graduate counseling programs. He has been continuously providing care for over 20 years. He has been happily married since 1983
Christopher T. McCarthy, MEd, Licensed Professional Counselor
Christopher McCarthy, MEd, is a Licensed Professional Counselor who specializes in treating child anxiety disorders, teen behavioral issues, parent-child relationship issues, and couple conflict. He co-owns Informed Therapy Resources and co-created Turnaround: Turning Fear Into Freedom™, a professional and creative audio program designed to help kids get free from anxiety and fear (myanxiouschild.com). He has 3 Masters Degrees and is finishing a PhD in Counselor Education and Supervision. He gives lectures on parenting and improving couple relationships. He has been in private practice since 1998 and is married with 3 children.
Contact:
Informed Therapy Resources (ITR)
e-mail: info(at)myanxiouschild(dot)com.
http://www.myanxiouschild.com
###