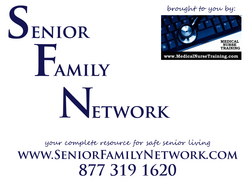 Stafford, VA (PRWEB) October 19, 2010
Medical Nurse Training, Inc. announces the development of http://www.SeniorFamilyNetwork.com in conjunction with parent Company Medical Nurse Training Inc. and http://www.SaferFalls.com. This site is being designed to be the number one resource for Seniors, Eldercare Caregivers, Geriatric Specialists, Family's of Seniors, and Baby Boomers with parents at Home. A short list of the site map is Caregiver Resources, Senior Resources, Live Support Groups, Senior Friendly Home, Health and Fitness, Government Resources, Leisure and Health, Long Term and Home Care Options, Money for Seniors and 35 other unique and exciting links.
Our approach is to combine all the resources available to the above groups into one easy to use resource. There are many serious issues confronting a society with an aging population that will be addressed by this site and our partner linked sites like AARP. This site will combine the selected resources of over 600 other sites.
Ultimately the site will include:

Live on-line consultation with experts in the field
Twitter like apps to communicate with fellow seniors/family's and caregivers
New technologies to increase safety, security, and medical efficacy
Video, Book, Amazon and YouTube library both free and for purchase
Click on - free education videos
Community forum's that allow members to blog and share ideas
Speak Out chat
Legal Issues chat and resource center
Reference links to all approved senior sites and lifestyle resources
Charitable site contribution and links to valuable resource sites
Featured sites and senior care products
Monthly newsletter from the latest research in Geriatrics and other experts
Phone number and web site directories for seniors and eldercare caregivers
Senior social networking
Medical information tailored to important new research
Valuable savings on our senior coupons link
Direct linking to AARP
There are many serious issues facing seniors and caregivers in today's environment. Among the most prevalent is the effect of falls which cost the Federal Government over 50 Billion per year and present the ever present devastating risk of hip fracture and head injuries. Simple cost effective approaches are rendered in an easy to understand format for a variety of medical and social issues facing these important at risk groups. New excited products and research to protect seniors from illness are reviewed and explored in detail. Experts are available to speak about these issues for your program, facility, and individuals.
###