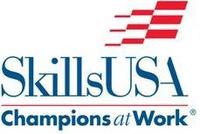 Their work is essential for our communities and the nation. John's support for career and technical education and SkillsUSA helps to ensure our nation's continuing success
Leesburg, VA (Vocus) October 19, 2010
Last evening, before an audience of over 350 national and international corporate executives, community leaders and career and technical education (CTE) students and their teachers, John E. McGlade, chairman, president and chief executive officer of Air Products and a former CTE student himself, received the inaugural SkillsUSA CEO Champion of the Year award during a ceremony at the Waldorf=Astoria in New York City.
"Our association with SkillsUSA is one of the most important partnerships we can have as a corporation for a number of reasons," said McGlade. "It helps drive career and technical education in the United States. It mirrors our values around community involvement, particularly in education, and the importance of integrity, safety and environmental stewardship in the workplace. And it provides us access to top-quality technical talent for our plants and operations around the globe.
"Working side by side with SkillsUSA students in high school and college really allows companies like Air Products to develop the talent and traits we desire most for our own needs and for the good of our society," McGlade said.
"From the cars we drive to the food we eat –virtually every part of our daily lives – is made possible by the skilled American workers served by SkillsUSA," said Tim Lawrence, executive director of SkillsUSA. "Their work is essential for our communities and the nation. John's support for career and technical education and SkillsUSA helps to ensure our nation's continuing success," Lawrence announced.
Senator Michael B. Enzi, ranking member of the Senate Committee on Health, Education, Labor and Pensions wrote in part: "You are receiving this award because you have been leading the best way – by example. Because of your achievements, you are now able to provide the assurance that students of all ages need – that there will be opportunities for them to pursue that will lead them to careers that will be both challenging and rewarding."
Others honoring McGlade and his accomplishments with remarks during the evening: Tony Pedregon, NHRA World Funny Car Champion; Bob Black, vice president of Morris Black &Sons; Greg Rintala, Snap-on Industrial and chair, SkillsUSA Youth Development Foundation; Keanna Mosley, a SkillsUSA gold medalist and now Air Products employee in Texas; and, Karen Ward, state association director of SkillsUSA Massachusetts and SkillsUSA alumna. Diane Donaher of Bethlehem, Pa. was master of ceremonies. The Herald Trumpeters and Bagpipe Corps of the Liberty High School Grenadier Band – McGlade's alma mater in Bethlehem, Pa.— were also featured as were SkillsUSA alumni Vanessa Sandoval and Warren Zentz who sang during the ceremony.
Under McGlade's leadership, Air Products has integrated support for SkillsUSA. Air Product employees serve on technical committees for the SkillsUSA Championships, and on task forces and boards of state and local SkillsUSA chapters in California, Louisiana, Massachusetts, Pennsylvania and Texas. They are active in judging local, state and national student competitions, and with the SkillsUSA Youth Development Foundation. The company provides financial support for SkillsUSA initiatives such as the Professional Development Program, and is helping SkillsUSA build its national network through support of the Alumni & Friends Association. Air Products also published a best practice guidebook to help the organization better forge business/education partnerships with career and technical schools.
A native of Bethlehem, Pa., McGlade took classes in civil engineering technology at the Bethlehem Area Vocational Technical School during his sophomore, junior and senior years. He is a graduate of Lehigh University in Bethlehem, where he earned a B.S. degree in industrial engineering in 1976 and an M.B.A. in 1980. McGlade joined Air Products in 1976 in the company's Career Development Program and held increasingly responsible management positions. He became president and chief operating officer in 2007 and was named chairman of the board in 2008.
The CEO Champion award will be given each year to recognize the leadership of the chief executive of an organization doing exemplary work in the creation and support of America's highly skilled work force. The award will also recognize CEOs for their corporation's involvement in promoting and supporting career and technical education.
About SkillsUSA
SkillsUSA is a partnership of students, teachers and industry working together to ensure America has a skilled work force. It helps each student excel. It is a national nonprofit that strives to provide a quality work force in trade, technical and skilled service occupations with 13,000 chapters in 54 state and territorial associations. The nationwide organization serves more than 300,000 high school, college and postsecondary students—and their instructors—in training programs in technical, skilled, and service occupations, including health occupations. SkillsUSA has the active support of more than 1,100 corporations, trade associations, business and labor unions at the national level. Over 10 million people have been members of SkillsUSA since its founding as The Vocational Industrial Clubs of America in 1965. SkillsUSA instructional programs teach leadership, citizenship and character development to complement technical skill training. For more information, go to http://www.skillsusa.org
About Air Products
Air Products serves customers in industrial, energy, technology and healthcare markets worldwide with a unique portfolio of atmospheric gases, process and specialty gases, performance materials, and equipment and services. Founded in 1940, Air Products has built leading positions in key growth markets such as semiconductor materials, refinery hydrogen, home healthcare services, natural gas liquefaction, and advanced coatings and adhesives. The company is recognized for its innovative culture, operational excellence and commitment to safety and the environment. In fiscal 2009, Air Products had revenues of $8.3 billion, operations in over 40 countries, and 18,900 employees around the globe. For more information, visit: http://www.airproducts.com
###