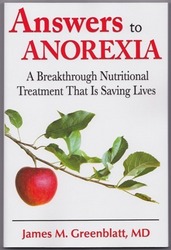 Anorexia is not the disease we've always thought it was. It's not just a psychiatric disorder. Anorexia is a medical illness of starvation that causes malnutrition in the body and the brain. Treatment needs to focus on correcting this malnutrition.
Newton, MA (Vocus) October 19, 2010
The first thing Dr. James M. Greenblatt wants you to know about anorexia nervosa in Answers to Anorexia (Sunrise River Press, softbound, $16.95), his breakthrough new treatment for treating and preventing the disease, is that this is no trivial condition.
"Anorexia nervosa is not just an eating disorder. It's the most lethal psychiatric disorder on the planet. One of out of every five patients dies within twenty years of diagnosis, predominantly from suicide."
The second thing Greenblatt, a noted expert in eating disorders and integrative medicine, wants perfectly clear is that the medical profession has failed the millions of young women—and increasingly men—ravaged by the spiral of self-imposed starvation that anorexia unleashes.
"Anorexia is not the disease we've always thought it was. It's not just a psychiatric disorder. Anorexia is a medical illness of starvation that causes malnutrition in the body and the brain. Treatment needs to focus on correcting this malnutrition."
By treating the underlying medical illness of brain starvation, Greenblatt has had success in helping anorexic patients recover. Armed with the latest research from the frontiers of brain chemistry and nutrition, he even believes that anorexia nervosa may be preventable. That's the best news we've had in fifty years of treating the disease.
Greenblatt's new nutritional paradigm resulted in his developing a highly accessible treatment regimen incorporating holistic and integrative/nutritional medicine. The nutritional model also enabled Greenblatt to develop a new diagnostic tool for determining the likely effectiveness of individual medications for the treatment of depression and anxiety that often accompany anorexia.
Many of the symptoms anorexics present, including ironically, self-starvation, are themselves expressions of a starving brain. A brain that convinces you it's a good idea to starve is an insidious adversary. Fortunately, as Greenblatt's research concludes, you can stop this life- threatening process with targeted nutritional interventions.
"There will always be a role for therapy and medications in the treatment of anorexia," Greenblatt explains. "But for the first time there's a treatment that stops the downward spiral of this disease long enough to provide effective treatment and facilitate sustained recovery."
That will be world-changing news to the millions of families faced with the daily nightmare of "reasoning" with someone intent on starving herself. Greenblatt's brain research has also led to the aforementioned diagnostic test—referenced electroencephalogram (rEEG)—that has been proven successful in helping doctors know which medications will work for individual patients. "It beats the trial and error method of polypharmacy hands down," Greenblatt explains. "That's important. The faster you can treat the symptoms of anorexia—the depression, the obsessive thoughts—the profound malnutrition—the better the chance of survival. Greenblatt has redefined our understanding of Anorexia Nervosa with his description of this life-threatening cycle that he refers to as "Malorexia."
Answers to Anorexia presents these neurophysiological breakthroughs in language accessible to any layman. It's a fascinating book for anyone interested in the physical damage and brain dysfunction that result from anorectic malnutrition. And a life-saver for anyone suffering through it.
For more information, visit http://www.jamesgreenblattmd.com
Media contact: Victor Gulotta, Gulotta Communications, Inc.
617-630-9286, victor(at)booktours(dot)com
http://www.booktours.com
Answers to Anorexia: A Breakthrough Nutritional Treatment That Is Saving Lives
By James M. Greenblatt, MD
Sunrise River Press
ISBN: 978-1-934716-07-6; softbound, 6 x 9, 224 pp., $16.95
Biographical Information
A pioneer in the field of integrative medicine, James M. Greenblatt, MD, has treated patients with complex eating disorders since 1988. An acknowledged eating disorder and integrative medicine expert, Dr. Greenblatt has lectured throughout the United States on the scientific evidence for nutritional interventions in psychiatry and eating disorders.
In addition to being the Chief Medical Officer of Walden Behavioral Care, Dr. Greenblatt is the Founder and Medical Director of Comprehensive Psychiatric Resources, a private integrative psychiatric practice. Dr. Greenblatt also serves as an Assistant Clinical Professor at Tufts Medical School. After receiving his medical degree and completing his psychiatry residency at George Washington University, Dr. Greenblatt went on to complete a fellowship in child and adolescent psychiatry at Johns Hopkins Medical School.
###