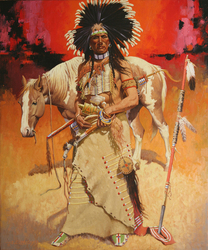 Western Art continues to be a really popular investment
Scottsdale, AZ (Vocus) October 18, 2010
Western Artists of America's Annual Show and Sale Museum Book is the most vibrant source for collectible western art. The newest museum book features forty of the world's best artists and sculptors in a pictorial display of the American West, in all its splendor: cowboys and cowgirls, Native American children, elders and warriors, rodeo, western landscapes, mountain men, buffalo, stagecoaches and more.
Despite the present economic downturn, collectible western art is riding high in the saddle again and it flourishes in variety and popularity within the United States and worldwide. Many designers and decorators in the southwest include "Western Art" in homes and businesses.
"Western Art continues to be a really popular investment," said Ed Holmes, president of Western Artists of America. "Many of our WAA artists are acclaimed, modern-day masters. For example, artist Ed Copley has been called a 'modern day old master' while the late artist Kenneth Freeman was called the 'Rembrandt of the Rodeo' by the press. All of these WAA artists have long resumes and price points that are attractive to collectors of fine art."
Notable museums are also looking to expand their permanent collection of fine art.
"Several members of WAA have artwork within the Pearce Museum permanent collection. This event will give us the chance to meet other western artists through which we can expand our collection," added Holly Beasley Wait, director of the Pearce Museum.
A Kiowa poet once remarked that the American West "is a place that has to be seen to be believed, and it may have to be believed in order to be seen." The Kiowa Indians lived in and around the Texas panhandle. Choosing a museum in Texas for the Seventh Annual Western Artists of America's Show and Sale just made sense.
"We are delighted to host the 7th annual Western Artists of America (WAA) Show & Sale here at the Pearce Museum, on the campus of Navarro College. It is a wonderful opportunity, not only for the museum, but also for the community," added Wait. "While the museum is just south of Dallas/Fort Worth, an event of this caliber will surely put Corsicana on the cultural map and bring a higher level of prestige to the Pearce Museum."
Prices for the most desirable works by contemporary artists are set to surge as much as 30% as collectors spend again, dealers and advisers predicted in a Bloomberg News 2010 survey.
About Western Artists of America Seventh Annual Show and Sale
The WAA Show & Sale has two days of events that include a Friday (Jan. 28) lecture with master painter Jay Hester on oil painting and also a lecture with master sculptor Keith McMasters on bronze sculpture. Friday night is the exciting Art Auction from 6 – 8 PM. On Saturday (Jan. 29) the WAA offers a great autograph party to meet the artists followed by an Artists' Quick Draw Competition where WAA artists mentor college art students with all proceeds going to the Pearce Museum. The WAA event wraps up on Saturday night with the gala Western Artists of America Awards Dinner hosted by Bob Boze Bell of True West Magazine.
About Western Artists of America
Western Artists of America is an organization formed in 2000 for the purpose of promoting the talents of professional fine artists specializing in the genre of cowboy, Native American, pioneer, cattle and horse subjects with backgrounds appropriate to the subject matter. Formed to showcase the talents of the many qualified fine western artists of today irrespective of gender, the more seasoned members seek out up and coming talent who exhibit a high interest in the western genre for mentoring. These artists' works are showcased in an annual event sponsored by a national art museum. The Pearce Museum on the Navarro College campus in Corsicana, Texas will host the 2011 show and sale for the WAA.
Website: http://www.WesternArtistsOfAmerica.com
About The Pearce Museum at Navarro College
Our mission is to preserve, collect, and interpret the history of the American Civil War and the art of the American West.
The Civil War Gallery is an interactive experience designed to give the visitor a humanistic overview of the Civil War, including issues, causes, battles, leaders, plight of the common soldier, the home front, and the aftermath. There are currently more than 15,000 items in the Civil War collection, while less than five percent are on display at any one time. The Western Art Gallery features two- and three-dimensional works of art depicting many aspects of the historical and contemporary Western experience including cowboys, Indians, settlers, and pioneers. There are 228 works in the Western Art collection with not quite fifty percent of those pieces on exhibit at any one time. The Pearce Museum - Navarro College - 3100 W. Collin Street - Corsicana, TX 75110 - 903-875-7642
Website: http://www.pearcecollections.us
ONLINE RESOURCES:
PRWeb Newswire Release: Masters of the American West Showcased at Pearce Museum
HD Video (can be embedded): http://www.dmproductionsllc.com/waa.htm
Online Digital Museum Book (can be embedded): http://www.dmproductionsllc.com/waa.htm
High Resolution Images available upon request.
Keywords: Western Artists of America, Pearce Museum, Navarro College, western art, fine art, museum, museum exhibition, cowboy, cowgirl, mountain men, rodeo, western landscapes, Native American, Native American elders, Native American children, portraits, Charles Pearce, Texas, Texas museums, Kenneth Freeman, Ed Holmes, Ed Copley, Sharon Brening, Jay Hester, Keith McMasters
###