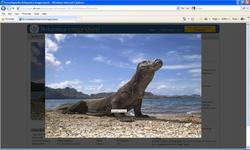 Image Quest provides a truly global representation of the finest historical, fine arts and contemporary images
Chicago, IL (PRWEB) October 19, 2010 —
Students and teachers who need photos and other images for research, papers and projects can now find them easily and conveniently in Britannica Image Quest, a new online database from Britannica Digital Learning.
The Web site, which is now available to schools, universities and libraries, currently provides images from more than 40 of the best collections in the world, including Encyclopaedia Britannica, Dorling Kindersley, Getty, the National Portrait Gallery of London, the National Geographic Society and Oxford Scientific.
Launching now with about a million images, the collection will grow to two million by year's end. Also by then video collections will be added, and the number of image sources will grow to more than 60.
Providers of content to the site will come from the U.S., Canada, the United Kingdom, France, Italy, Japan, Spain, Australia and New Zealand—"a truly global representation of the finest historical, fine arts and contemporary images," according to Michael Ross, a senior vice president at Encyclopaedia Britannica, Inc., and general manager of Britannica Digital Learning.
Image Quest provides easy access to high-quality photos from trustworthy sources for students of all ages on a wide range of topics. Images are organized by subject matter, and the site is fully searchable. Each image, which is cleared of copyright restrictions for educational use, includes a caption, citation and copyright information and other metadata. With all the images in one convenient place, it simplifies the search for photos because researchers don't have to comb through multiple Web sites or worry about permission to use them.
The product has many uses. Students can turn to Image Quest for homework assignments and course projects, and teachers can use the images in lesson plans and classroom activities. It's ideal for whiteboards, school Web sites, newsletters, newspapers and bulletins.
"Students today don't just write reports; they produce rich expositions that combine research and relevant illustrations," said Ross. "But it can be hard to find the right images, to identify what's in them when you do find them and to know if you're allowed to use them. We've just made all of that a lot easier."
Britannica Image Quest is produced in collaboration with the Universal Images Group. Schools, universities and libraries interested in Britannica Image Quest can call 1-800-621-3900 or go to http://info.eb.com/ for more information. Free thirty-day trial subscriptions are available.
About Encyclopaedia Britannica
Encyclopaedia Britannica, Inc. is a leader in education publishing whose products can be found in many media, from the Internet to wireless devices to books. A pioneer in electronic publishing since the early 1980s, the company markets a variety of encyclopedias and other reference works, curriculum products for schools, language-study courses and other learning products, many of which are available online at http://www.britannicastore.com. Britannica is also active on Twitter and Facebook. The company makes its headquarters in Chicago.
###