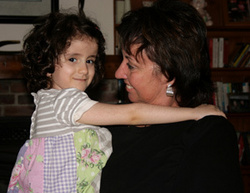 It takes an immense amount of planning and resources to make Ryma's treatment possible. And we're so grateful to everyone who has reached out to serve this precious child
Perrysburg, OH (Vocus) October 19, 2010
Ryma, a petite 5-year-old girl from Algeria, is the newest arrival at The LightHouse, a ministry of ISOH/IMPACT, one of Ohio's premier disaster relief and humanitarian aid organizations. 
Diagnosed with lipomyelomeningocele, a form of Spina Bifida, Ryma has a mass located under the skin on her back.  As a result of the pressure put on her spinal column by the mass, Ryma lives with reduced neurological function and mobility.
While at The LightHouse, Ryma will be evaluated and treated at Mercy Children's Hospital by the pediatricians at the Family Center.  Dr. Medhkour, a neurosurgeon, will complete her surgical care for treatment of the condition by closing and repairing the lipomyelomeningocele.
The goal of Ryma's treatment is to help her recover some neurological function, boosting her capability of performing daily activities and improving her overall quality of life.  Such delicate surgery is not available in Algiers where Ryma lives.  If left untreated, the mass will create life-threatening complications.
ISOH/IMPACT is asking the public to assist with Ryma's travel, food, and lodging expenses.  In addition to financial donations, assistance is also welcome in the form of meals, grocery cards, gas cards and phone cards.
"It takes an immense amount of planning and resources to make Ryma's treatment possible. And we're so grateful to everyone who has reached out to serve this precious child," said ISOH/IMPACT President, Dr. Linda A. Greene. "Without their help, she might not live to grow up. In the end, that's what this is all about––saving a little girl's life."
Ryma's anticipated stay at The LightHouse is 6 to 8 weeks.  She is accompanied by her parents, Abdenour and Lila Djoudad.
In addition to providing access to life-saving medical care, ISOH/IMPACT offers food and relief supplies to people around the world who suffer from manmade and natural disasters.
To learn more about ISOH/IMPACT and how you can be a part of Reaching Out & Serving Others, visit http://www.isohimpact.org.
###