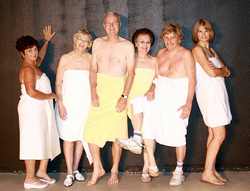 Sex Please, We're Sixty
Peoria, AZ (Vocus) October 18, 2010
An elderly lothario or "Casanova" attempts to seduce women at a bed and breakfast in the deliciously funny fall season play of the Westbrook Village Players in Peoria, AZ.
Four performances of "Sex Please, We're Sixty," begin on Thursday evening, November 4 and run through a matinee on Sunday, November 7, 2010. Friday's show is a dinner-theater beginning at 6 p.m. with a BYOB happy hour preceding it at 5:30 p.m. Thursday and Saturday evening show-only performances start at 7 p.m. and the matinee is at 2 p.m. The fun takes place at the Westbrook Vistas Recreation Center, 18825 N. Country Club Parkway, Peoria, AZ 85382.
Tickets are $29 for the dinner and show and $10 for all show-only performances. For more information, call 623-566-6178 or visit http://www.WestbrookVillagePlayers.org
"We added a fourth performance this year to qualify for a nomination for the ariZoni Awards," said club president and actor Rosa Leigh Sullivan. "The ariZoni Award is the local 'Tony' awards. Our director Jim Hyte won a "Zoni" last year and encouraged the Village Players to vie for one also."
"Sex Please, We're Sixty" tells the story of the Rose Cottage Bed & Breakfast, owned by the prim and proper Mrs. Stancliffe, played by Donna Raffel. Her elderly, silver-tongued, next-door neighbor, Bud "The Stud" Davis (George Fishwick), often attempts to seduce Mrs. Stancliffe's older women guests, played by Judy Fishwick, Edie Kelly, and Rosa Leigh Sullivan.
Her other neighbor and would-be suitor, Henry Mitchell (Jerry Kelly), is a retired chemist who has developed "Venusia," an untested pill that's designed to increase the libido of menopausal women. Bud's pursuits are aided when he gets a hold of Venusia, and hopes to test it on not one but three Rose Cottage guests.
"The ensuing comedy is side-splitting and a delightful way to spend an evening or Sunday afternoon," adds Sullivan. "Our production will be considered with all other non-contracted/non-professional theaters in the Valley for the ariZoni Awards, We are very excited about the opportunity and feel our performances are up to the challenge."
About Westbrook Village Players
The Westbrook Village Players is a group of theater lovers who work together to produce 2 theatrical productions each year. They present one play or musical in the Spring and one in the Fall. The Friday night performance is always a dinner theater.
The Village Players have produced plays since 1998. It is a not-for-profit volunteer organization that entirely produces each performance. In addition, they have actively worked with area schools and retirement homes recreating historical characters and events.
The object of the Club is to develop theatrical skills of interested Westbrook Village residents through workshops and productions, to encourage creativity of its members, and to increase cultural opportunities for Westbrook Village. Open auditions are held for all productions under the auspices of the Village Players.
They encourage those interested to join the group. Some of our actors are active in other theaters around the Valley as well. They have need for all roles from actors to those behind the scenes including publicity, set design and construction, make-up, costuming, props, stage managing, prompting, playbill/program design and production, and acquiring advertisers and sponsors. If you are interested, you're welcome to the club.
"Please join us for meetings on the second Monday of every month (except June and July) at 7:00 p.m. at the Vistas Recreation Center," says Rosa Leigh Sullivan, president. "We welcome all newcomers," she adds.
Visit http://www.westbrookvillageplayers.org
About the ariZoni Theatre Awards of Excellence
The ariZoni Theatre Awards is a not-for-profit organization devoted to promoting the visibility and growth of theatre in the Valley of the Sun & Maricopa County. Each year at its annual awards ceremony, the Board bestows an outstanding contribution award and a distinguished service award to deserving individuals or organizations for their contributions to theatre. In addition, the ariZoni Scholarship Committee will award one or more scholarships to selected, qualified students.
Most importantly, after completion of an exhaustive judging process, (involving close to 100 Adjudicators) awards of excellence are presented to those individuals who have excelled in performance and production during the just-completed season. These awards represent true celebrations of excellence in theatre.
###
###