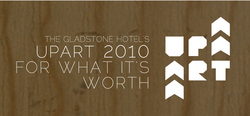 (Vocus) October 19, 2010
Now in its 2nd year, the Gladstone Hotel presents UpArt – an alternative art fair highlighting the original works of Toronto's up and coming artists, collectives, curators and galleries. From October 29th – 31st, the Gladstone's second floor exhibit space will be transformed into a living gallery, with site-specific installations created exclusively for this event.
Running in conjunction with Art Toronto, this year's featured installation For What It's Worth: Curios, Collections and Counterfeits, explores the concept of collecting and the value we place on the objects we covet. Playing on the themes of authenticity and value, galleries and artists will propose models of exchange or new ways of collecting, appraising and sharing artwork in the hopes of answering the questions, what is real, what is worthy and how do we attribute value?
Terry Tanner's Trading Post, is a playful place for people to meet and exchange all kinds of material and immaterial goodies. Artwork, antiques, family jewels, buttons, stamps, fine china, zombie slaves, freaky folktales, Canadian Tire money, vintage memorabilia, VHS tapes, used gold, sound advice – anything goes! Traders, hoarders, hustlers and dealers of all stripes are invited to take part in the action.
For more information about this event, please contact Britt Welter-Nolan at britt(at)gladstonehotel(dot)com, or call 416-531-4635 x 7105.
About UpArt:
Exhibition Hours
Friday October 29 – Sunday October 31, 12-6pm
Press Preview
October 28, 2010 4pm-8pm
Opening Reception
October 28, 7-10pm Second Floor
Curator's Tour
October 30, 2010 1pm
Panel Discussion – What's it worth? How do we value our art?
October 31, 2010 2pm
Join members of Art Battle, Circuit Gallery and Narwhal Projects who will shed light on the precarious systems we use to evaluate the worth of an object. Does a jpg have value? Would you save a painting from being destroyed? Can a crochet hook be as powerful as a paintbrush?
Participating Galleries:
Circuit Gallery
Gendai Gallery
Narwhal Art Projects
Galerié PUSH
Participating Artists:
Stephanie Avery
Barbara Balfour
Emily Chhangur
Eric Cheung
Tara Cooper
Amada Estabillo
Anitra Hamilton
Amanda Happé
Karen Kazmer + Todd Davis
Gordon Lebredt
Elly MacKay
Misha Michael
Nadia Moss
Joseph Reyes
Ryan Ringer
Daisuke Takeya
April Wong
###