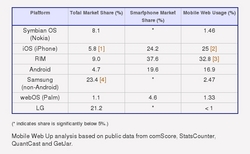 Analyst opinions are often based on device market share data. But for the mobile web, those are the wrong numbers to look at.
San Francisco, CA (PRWEB) October 20, 2010
Mobile Web Up, a leader in creating mobile websites for North American enterprises, today announced surprising research on how people use their phones to browse the web. A market analysis reveals that the market share of a phone has little relation with the amount of mobile website usage.
Some phones with a lower market share account for the bulk of mobile web browsing, by seeing more use among those consumers who own them. In contrast, some very widespread device classes see relatively little market share.
"Market analysts, commentators and pundits love to talk about the mobile web," says Mobile Web Up founder Aaron Maxwell. "Their opinions are often based on device market share data: hard measurements of product sales and consumer buying patterns. But for mobile web design, those are the wrong numbers to look at."
A much better predictor is smartphone market share. In other words, only looking at smartphones, and pretending other phone types (such as messaging phones) do not exist.
But even that is imperfect. With the iPhone, the percentages for smartphone market share, and for its share of total mobile web use, are roughly equal. But that measure overestimates the actual web usage for Blackberry (RIM) and Android.
"For your own mobile web strategy, ask yourself what mobile platforms your market is using most to go online," advises Maxwell. "Look at actual consumer behavior, as measured by mobile web use. This will be different depending on your business."
For example, in mobile banking, Wells Fargo found the iPhone accounts for 30% of mobile access to their treasury services, with the majority (50%) coming from clients using BlackBerry smartphones.
Ideally you will be able to leverage statistics from your existing web services. You will also want to check your website on mobile phones.
# # #