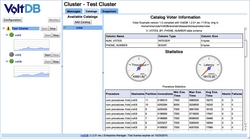 Billerica, MA (PRWEB) October 19, 2010
VoltDB, Inc., (http://www.voltdb.com ) announced today the general availability of the VoltDB open source OLTP database management system (DBMS) version 1.2 and the first release of the VoltDB Enterprise Edition. VoltDB is a distributed database capable of processing millions of transactions per second on shared-nothing clusters of commodity servers. It is a highly scalable alternative to traditional OLTP databases such as Oracle and MySQL and, unlike NoSQL key-value stores, VoltDB is accessed using SQL and ensures transactional data integrity (ACID). VoltDB version 1.2 adds significant new capabilities for data availability, includes optimizations to existing client libraries and, for the first time, introduces the VoltDB Enterprise Edition's new browser-based consoles for cluster provisioning, management and monitoring.
"VoltDB's amazing performance and scalability have the potential to change the OLTP landscape forever", said Edward Ribeiro, System Analyst at The Federal Senate of Brazil. "The VoltDB Enterprise Manager is a great addition to the VoltDB ecosystem, as it greatly simplifies the deployment, management, and monitoring of VoltDB databases. I cannot think of any VoltDB cluster that could not benefit from it."
The VoltDB database is ideal for developers of ad serving, gaming, financial trading, on-line businesses and other applications with large, fast-growing transaction volumes. These systems all place tremendous demands on read and write scalability while guaranteeing the transactional integrity of their data, making VoltDB the ideal solution. VoltDB 1.2 enhancements include:

New data availability features. Version 1.2 introduces two important data availability enhancements. The first is network partition tolerance, which allows VoltDB to automatically detect, isolate and manage network failures. This is a critical feature for distributed database infrastructures including those deployed into public clouds such as Amazon's EC2. The second availability feature, node rejoin, allows VoltDB database nodes that have been taken offline (e.g., for maintenance or repair) to "rejoin" the cluster while the database is live. Node rejoin dynamically resynchronizes all node data.
Improved developer accessibility. Version 1.2 adds two new client libraries – PHP and Ruby (the latter contributed by a VoltDB community developer). In addition, the VoltDB C++ client library now includes connection pooling, and the HTTP/JSON client library now includes authentication and significantly improved performance.
New consoles for provisioning, management and monitoring. New in the Enterprise Edition of version 1.2, the VoltDB Enterprise Manager (VEM) provides database and systems administrators with browser-based tools for managing production VoltDB databases. VEM offers a flexible suite of consoles for performing many common administrative and diagnostic activities.
In addition to introducing new product capabilities in version 1.2, VoltDB, Inc. has also added two new support subscriptions to its services line-up. Developer Support is aimed at helping database developers quickly prototype, build and deploy VoltDB-based applications. Premium Support is a production support subscription for organizations that require 24x7 assistance and other high-response services.
"With the many enhancements in this new version, we are very pleased to empower VoltDB users to run their databases in a much broader range of environments," said VoltDB president Scott Jarr. "Users continue to push the product hard across a wide range of applications, and we are thrilled with the responses and feedback we're receiving from the VoltDB community. Equally exciting to us is the release of our first Enterprise Edition features, specifically designed for operating VoltDB in high volume production deployments."
About VoltDB, Inc.
Founded in 2009 by RDBMS pioneer http://voltdb.com/team/mike-stonebraker-cto-voltdb Mike Stonebraker, VoltDB eliminates transactional performance and scalability barriers by delivering a breakthrough DBMS solution that combines in-memory processing, a shared-nothing scale-out architecture and unique high-availability operations. Unlike NoSQL alternatives, VoltDB leverages the proven benefits of SQL and ACID transactions to deliver web-scale performance while reducing user application code and complexity. Visit http://www.voltdb.com for more information.
###