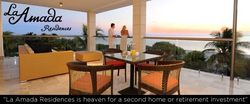 During your stay you will witness the many benefits of investing in La Amada Residences
(PRWEB) October 20, 2010
La Amada Residences creates a program for those who are in the market for real estate in Cancun, Mexico, looking for a luxury second home, family condominium or a incredible retirement home and want to take your vacations at the same time, whatever the reason is La Amada Residences is the place to visit, using the "Discover La Amada" program.
La Amada Residences is situated on a pristine stretch of beach in Playa Mujeres, Mexico, this beautiful real estate development is located just north of Cancun, a mere 25-minute drive from Cancun International Airport, yet in its own little world.
It was conceived as the heart of a new Cancun resort development with a freestanding beachfront community that includes luxury residences, an inland marina, heliport, a Greg Norman signature golf course, gourmet restaurants, elegant shopping and a 5 star hotel.
Now, by participating in the La Amada Discover Program it is possible to experience the exclusive atmosphere of this secluded corner of the Mexican Caribbean.
Book your hotel and stay at La Amada Hotel and La Amada Residences will provide a personal concierge who will arrange the following:
Private airport-hotel-airport shuttle.

SPA Experience at La Amada SPA
$100.00 Usd Gourmet Dinner Experience Coupon at "Aroma Restaurant" at La Amada hotel
Discount Tee time at Greg Norman Playa Mujeres Golf Course
Playa Mujeres Resort Tour
Private Property Tour
With the "La Amada Discover" program is possible to visit all the types of Cancun Playa Mujeres residences available, learn about the range of amenities and investigate all available financing options. During the visit to the Mexican Caribbean Development is so easy to understand the benefits of investment in La Amada Residences, such as:
24 hour security in a peaceful community, perfect for families and retirees
A two mile long secluded, unspoilt Cancun beach
The best inland Cancun marina in the Yucatan Peninsula designed after the Puerto Portals marina in Mallorca
Discounts at the Greg Norman signature Playa Mujeres golf course next door
Nearby attractions such as the beautiful colonial cities of Merida and Campeche and the majestic Mayan ruins of Chichen-Itza, Tulum and Cobá.
Through the "La Amada Discover" Program real estate buyers will see how can enjoy perfect year round weather, a lower cost of living, a stress free lifestyle with a great social life, and live and own property in a foreign country that is only a short flight from most U.S. cites and where everyone is extremely hospitable and speaks English.
Happy neighbors, Real Estate Buyers and Investors rave about their experience purchasing at La Amada, with comments like this: "Since our first contact with La Amada we have found all their representatives to be professional & a pleasure to deal with. It has been truly exciting to watch this 1st. class residential & marina develop into what is sure to be a premiere resort destination".
The La Amada Discover Program takes a new exclusive and luxurious world that changes the Cancun Mexico lifestyle forever!
Contact:
Juan David Cañas Yofu
Tel. +52 (998) 872 8738
Mex. 01800 23 amada
Usa. 1866 595 9043
Can. 1866 635 4950
j.canas(at)laamada(dot)com
###