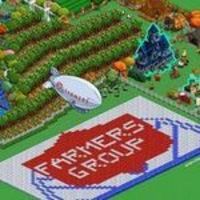 "We are excited to be part of an effort to connect the Farmers brand with a new segment of highly engaged consumers, young and old," said 15miles President Gregg Stewart.
New York (PRWEB) October 19, 2010 —
Farmers Insurance Group of Companies®, the country's third-largest insurer, partnered with social-marketing agency 15miles, the interactive-services division of New York-based TMP Directional Marketing, to create an industry-first campaign for the brand to engage players of the popular FarmVille social-gaming platform.
Zynga, an internationally recognized interactive-gaming company, produces the FarmVille game exclusively for Facebook, an online-social-networking company. Through a unique partnership between Zynga and Farmers, the 64 million FarmVille players will have an opportunity to click on and acquire a virtual version of the Farmers Insurance Airship named Eureka. By placing the Airship on their interactive-gaming farms, users receive 10-day protection to keep their virtual crops from withering. The campaign, which is scheduled to run for 10 days, began on October 18, 2010.
15miles and Farmers have partnered on various interactive-marketing projects in the past, including strategic development of social-media initiatives, corporate implementation and personalized Facebook pages for local agents. As part of the overall social-media strategy, 15miles and Farmers viewed Zynga's widely used network and its well-known FarmVille brand as key leverage points.
"Not only does this innovative use of branding mark the first time an insurance provider will enter Zynga's online-gaming space, but we are excited to be part of an effort to connect the Farmers brand with a new segment of highly engaged consumers, young and old," said 15miles President Gregg Stewart. "Together with the Airship, which features the largest use of Farmers' logo in company history, and Farmers' recent social-media push, we feel this campaign complements our overall efforts to increase awareness of Farmers in the interactive marketplace."
"This is an exciting way for us to offer virtual protection which mirrors the real world protection we provide to millions of people everyday with our home, automobile, business and life insurance products," said Kevin Kelso, Chief Marketing Officer of Farmers Group Inc. "In addition to this partnership with FarmVille, Facebook users can "like" Farmers Insurance and enter to win a ride on the real Farmers Airship."
Until November 15, 2010 fans have a chance to win a ride for themselves and a companion on the world's largest airship, by logging onto facebook.com/farmersinsurance.
15miles
15miles is the interactive-services division of TMP Directional Marketing, which is the largest local-search-marketing agency. Its online- and mobile-search solutions, which range from Internet Yellow Pages and local-listings management to social-media marketing and search-engine optimization, position national brands at the forefront of targeted consumers' search results for increased lead generation and sales. For more information about 15miles' interactive-marketing services, please visit 15miles.com.
About Farmers Insurance Group Inc.
Farmers is a trade name and may refer to Farmers Group, Inc. or the Farmers Exchanges, as the case may be. Farmers Group, Inc., a management and holding company, along with its subsidiaries, is wholly owned by the Zurich Financial Services Group. The Farmers Exchanges are three reciprocal insurers (Farmers Insurance Exchange, Fire Insurance Exchange and Truck Insurance Exchange), including their subsidiaries and affiliates, owned by their policyholders, and managed by Farmers Group, Inc. and its subsidiaries. For more information about Farmers, visit our Web site at farmers.com or Facebook.com/FarmersInsurance .
###