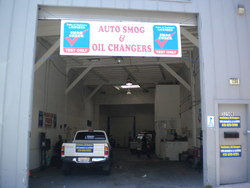 An oil change before a smog check can help out significantly.
San Francisco, CA (PRWEB) October 20, 2010
Smog is a type of air pollution that will continue to sweep across this nation if strict emission controls are not enforced. California has been one of the early adopters of this phenomenon and Auto Smog and Oil Changers is proud to be a part of this movement and will continue to take proactive steps in reducing the air pollution in our great city of San Francisco.
Auto Smog and Oil Changers new promotional campaign was conceived when the company notice that consumers these days were in a rush. Auto Smog and Oil Changers decided kill two birds with one stone and offer free oil change with every smog check. Oil changes on your vehicle can play a vital role in the smog check and on the website http://www.smogtips.com/six_things.cfm the six things one should do before a smog check would be to change their oil.
"The PCV (positive crank ventilation) system of your vehicle is designed to allow your engine to breath fumes located in oil compartments (oil pan, ect.). The fumes are then burned through the combustion process. If the oil in your engine is contaminated due to inadequate oil changes it may very well cause your vehicle to fail the inspection. Contaminated oils are high in Hydrocarbons (HC) and will present a rich mixture to the engine chambers. Avoiding oil change not only causes pre-mature engine wear but can also cause your vehicle to fail the smog inspection".
For more information about test only smog inspections in San Francisco call us at 415-263-9517 or visit us at
Auto Smog and Oil Changers
Auto Smog and Oil Changers is a San Francisco test only smog station based in the heart of San Francisco California. Auto Smog and Oil Changers specializes in smog checks, smog inspections, gross polluters and oil changes.
###