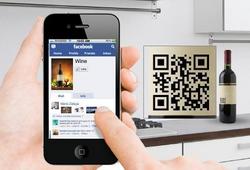 We're bridging the gap between Facebook and the real world.
Toronto, ON (PRWEB) October 21, 2010
ItWowed.Me, a new smartphone technology platform developed by Majestic Media Ltd., allows businesses and brands to drive audiences to Facebook fan pages and convert them into fans.
"Like" something in real life? By placing a Quick Response (QR) code on real world objects, smartphone users can now scan these codes with their iPhone, Android, BlackBerry or any smartphone device and instantly "Like" the real world product or business on Facebook, thus sharing it with their friends on the social media site.
Utilizing a smartphone app like ScanLife, the QR code connects the smartphone's Internet browser on to the corresponding fan page, allowing brands to convert their target audiences in retail locations into fans.
With the surging popularity of smartphone technology, ItWowed.Me provides companies with the ability to easily increase their fan base on their Facebook fan pages. The smartphone system is a breakthrough for brands looking to maximize their exposure for dynamic real world events, products or exhibits by linking these environments to social networks like Facebook.
"With It.Wowed.Me we're bridging the gap between Facebook and the real world," said Mario Zelaya, Managing Director at Majestic Media. "Any smartphone user will now be able to instantly share a product, brand or event they 'Like' with their friends on Facebook, providing companies with the capacity to increase their fan base on fan pages with tangible results."
Some of the features of ItWowed.Me include:

The ability to place QR codes on any type of object (e.g., napkins in a restaurant).
Direct connection to corresponding mobile optimized fan pages.
Access to system analytics to measure the success of initiatives.
"We've worked with companies that have spent hundreds of thousands of dollars, trying to increase traffic to their fan pages on Facebook. What we've done is created a simplified solution so they can take their digital fan conversion strategy to the real world and at no cost," Mr. Zelaya said.
This new web-based smartphone solution was developed by Majestic Media Ltd., one of Canada's leading providers of custom social media and interactive development.
About Majestic Media
Majestic Media works with agencies to supply custom social media solutions (like Facebook applications and custom fan pages) to big brands and organizations, while providing industry leading consulting and development. With a core focus on integrating social media with online brand campaigns, Majestic Media's platform is used by some of the leading Fortune 500 companies. For more information, visit http://www.majesticmedia.ca.
Media contact: Edward Sattaur
Phone: 1-888-483-3331
E-mail: Edward(at)majesticmedia(dot)ca
# # #