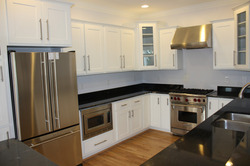 Just wanted to say thanks for your excellent service and quality cabinets. We couldn't be happier
Pawling, NY (PRWEB) October 21, 2010
The RTA Store marks a major milestone in the inventory of discount kitchen cabinets by becoming the largest internet retailer for RTA kitchen cabinets. 11 New finishes have now made The RTA Store America's largest ready-to-assemble and pre-assembled kitchen cabinet retailer online.
Tyler Ackerman, company president at the RTA Store, says, "We are setting new goals for sales each month as more and more customers turn to the RTA Store for kitchen cabinets. We help take all the guesswork out of selecting the best kitchen cabinets, and the customers are certainly responding very well to our business model. Our higher sales numbers show just how much customers have come to know and trust us for quality kitchen cabinets."
The RTA Store specializes in both ready-to-assemble and pre-assembled kitchen cabinets. The company will send out sample cabinet doors to customers who wish to test the product themselves before purchasing. The retailer also offers a design team that can help customers figure out exactly what kind of kitchen they want.
The RTA Store is a family-owned and operated online retailer of cheap kitchen cabinets. The company sells discount kitchen cabinets from reputable companies customers know and trust.
###