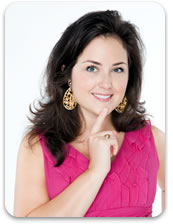 (PRWEB) October 21, 2010
Atlanta As the Fall season ushers in cooler weather, singles are looking for ways to keep their love life hot. Sarah Kathryn Smith, the Southeast's premier matchmaker, advises singles to plan now for the love life they want during the Holiday season!
Everyone knows that November to February are the four worst months for singles--from Thanksgiving to Christmas to Hanukkah to New Year's Eve and the dreaded V-Day--far too many singles wait too late to lock in their chances at an active and social holiday season. Drawing on her more than a decade of experience in love and matchmaking, Smith offers these tips to help singles plan now:

First, STOP pretending you don't care. An evening of bon bons and "Bridget Jones Diary" is no one's idea of a good time, no matter what you tell yourself. Face the fact that you DO want to bring a hot date to your holiday party this year, and that you don't want to see Ryan Seacrest this New Year's Eve. It's ok!
You have to circulate to percolate! Start now building out a more diverse friendship portfolio. Go to a different part of town or work out at a different gym. It feels awkward at first, but it pays off. Position yourself well to generate holiday date leads.
Make a preemptive strike. Unless you're already going into the holidays feeling good about yourself, it's almost impossible to instantaneously ramp up the self-confidence to attract good matches. A lot of people get motivated too late--after the holiday season when they realized they spent it alone. Set your fitness goals. Start saving for your Fall/Winter wardrobe. Start investing in your appearance in advance.
The bottom line: Singles don't have to brave the holidays alone, they just need to plan ahead.
Sarah Kathryn Smith is CEO of Eight at Eight Dinner Club and One on One Matchmaking. Smith has more than 200 marriages and more than 5,000 serious relationships to her matchmaking credit. She has been featured in hundreds of media outlets, including Oprah, CNN, Cosmopolitan, Wall Street Journal and even Playboy, as well as other local media outlets.
# # #