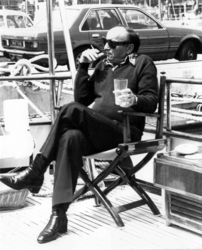 Never before have authors had such an intimate platform to speak to their readers. When Harold wrote a novel, he wanted exactly what social media has provided – a way to speak to his reader one-on-one
Los Angeles, CA (Vocus) October 19, 2010
Jann Robbins, widow of best-selling author Harold Robbins, is reaching out to fans (past and present) on her new blog, "The life and times of Harold Robbins." Sharing never-before-heard stories, Jann Robbins writes about old Hollywood and the life of the legendary American author.
"Never before have authors had such an intimate platform to speak to their readers. When Harold wrote a novel, he wanted exactly what social media has provided – a way to speak to his reader one-on-one," says Jann Robbins.
Throughout the last century, Harold Robbins' novels about sex, money and power were ridiculed by critics and loved by readers. He sold more than 750 million books, in 32 languages, to readers worldwide.
The new blog comes after the re-release of 12 of Robbins' novels this summer through the self-publishing company AuthorHouse. The re-release gave Jann Robbins the opportunity to make the novels available across a wide range of digital platforms.
"Harold Robbins has always been a visionary and an innovator. It was his tradition and insistence, from the beginning of his career, that his books were accessible to everyone. This is why brought these best-sellers into the digital age, hardcover and paperback once again," says Jann Robbins.
Jann Robbins is candid about her life with Harold and writes about the beginning of their relationship. The blog also shares old photos of stars such as Frank Sinatra, Henry Mancini and Mario Puzo.
An excerpt from the post Vodka, Rancho Mirage and Constant Chaos: Finishing The Betsy:
Harold spent another two days in the desert to get The Betsy almost completed. He would make his final push (at least 50 pages were left once he arrived in New York). He thrived on the publisher's deadline pressure, as well as his attorney's, editors and others who were waiting completion that was always a horse race to the finish. This high energy atmosphere ignited Harold's creative juices.
"The life and times of Harold Robbins" blog provides an inside look into the world of sex, money, power and of course – writing.
AuthorHouse is a premier book publisher for emerging, self-published authors. For more information, please visit http://www.authorhouse.com.
###