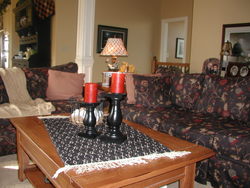 We believe the place everyone should cherish is their home. You always hear about a person's vacations - where they go to get away and relax. To us, your favorite place of comfort should be the one you go home to every night
Kansas City, MO (PRWEB) October 21, 2010
The owners of P & J King, Inc. have announced the launch of their new websites Home All Aglow, Bedroom All Aglow, Kitchen All Aglow and the All Aglow Blog which are dedicated to giving tips on how to turn a basic house into a warm and comfortable home. With these sites, Paula and Janet King offer a valuable resource for homeowners looking to improve the quality of their time spent at home.
"Giving your home the warm and comforting appeal of a sanctuary can be accomplished by using some pretty simple accessories. Each one of our sites and our blog give helpful hints on making your home a place of beauty, comfort, warmth, and relaxation," says Paula King, president.
Home All Aglow offers decorating ideas for all rooms of the house and provides readers with simple means of adding comforting items to add warmth to the home while choosing complementary colors and styles to enhance the home's ability to create a sense of unity and tranquility. The site covers such topics as different types of candles, lamps, throws, and pillows and their effect on your senses as well as visual pleasures such as silk flower arrangements, artificial greenery, and wreaths.
"We believe the place everyone should cherish is their home. You always hear about a person's vacations - where they go to get away and relax. To us, your favorite place of comfort should be the one you go home to every night," Paula continues.
In Bedroom All Aglow, bedroom design is explored as a means of creating warmth and comfort. With such topics as bedroom lighting, bedroom furniture, bed linens, home fragrance, candles, and various styles of sleepwear including footie pajamas, the site offers ideas on how to make your bedroom cozy and beautiful.
Kitchen All Aglow teaches readers to create a soothing atmosphere in which to perform their culinary tasks.
"Because the kitchen is a "work" related room, the site explores methods of making the reader's cooking experiences easier by equipping the kitchen with the right appliances, cookware, dinnerware, and kitchen gadgets," she adds.
Kitchen beauty, warmth, and functionality are also addressed in topics such as kitchen lighting, kitchen furniture, kitchen decorating, and cooking.
The All Aglow Blog is a resource dedicated to the heart and home and one's need for creature comforts. Through inspirations, reflections, and everyday know how the blog offers insights into making your home a haven and comfortable place of rest.
If you are looking to improve the quality of time you spend at home, these sites are full of ideas to help you create your own home sanctuary.
###