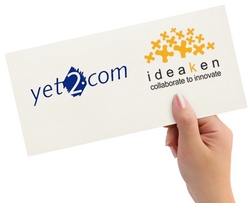 Dr. Eugene Buff, Vice President of Consulting for yet2.com, said, "Asia is a developing powerhouse of innovation that is of immense importance to the rest of the world. yet2.com is very happy to be partnering with an organization of ideaken's stature."
India / USA (PRWEB) October 21, 2010
Open innovation and Co-creation is the fastest emerging way to procure & supply innovation in a world of diminishing boundaries. This partnership will help both yet2.com and ideaken.com to expand their innovator solver base and get faster and better solutions for their enterprise clients. This partnership will also provide a greater opportunity for individual innovators and technology SMEs to access bigger market of innovation seekers from around the world.
Head quartered in US, yet2.com is world's largest intellectual property exchange. ideaken.com is a leading open innovation intermediary and co-creation platform provider in Asia.
Dr. Eugene Buff, Vice President of Consulting for yet2.com, said, "Asia is a developing powerhouse of innovation that is of immense importance to the rest of the world. It's also one of the world's great markets for technology. yet2.com is very happy to be partnering with an organization of ideaken's stature."
"We look forward to a long partnership with ideaken," said Ben DuPont, president and co-founder of yet2.com. "Innovation is not regional. Developments from Bangalore or Delhi can easily find their way to the shelves of New York or Tokyo, just as innovations from Berlin or Johannesburg may help companies in Bangalore. Organizations like ideaken and yet2.com exist to make these connections happen."
Jayesh Badani, Founder and CEO of ideaken said "yet2.com and ideaken.com are in the business of tapping into innovative technology providers who are somewhere out there. It makes lot of sense to join forces and create a larger community of innovation seekers and innovation solvers, everybody wins this way. We help our clients collaborate to innovate; this partnership is about applying this principle to ourselves!"
About yet2.com
yet2.com provides intellectual property consulting and licensing services to world-class clients around the globe. yet2.com Inc and its online marketplace were founded in 1999 to promote Open Innovation, with original investments from Siemens, Bayer, Honeywell, DuPont, Procter & Gamble, Caterpillar, and NTT Leasing. The privately held company has offices in the United States, Europe, and Japan. The web site now has over 120,000 registered marketplace users including many of the Fortune 500 and over 16,000 smaller technology companies. In addition to its core team, yet2.com has created a wide network of Open Innovation partners covering many of the technology-rich countries around the world as well as relationships with open innovation organizations, technical expert networks, SME networks, technical magazines, online technical communities, and technology brokers. These provide market-wide access to technologies and needs in countries such as Russia, China, India, Korea, Brazil, South Africa, Japan, the US, and the EU. For more information, visit http://www.yet2.com or contact Tim Bernstein at 1-781-972-0600.
About ideaken.com
ideaken addresses a CEO level priority of getting innovation done using an online platform for open innovation and co-creation. ideaken was founded in 2009 with an intent to connect innovation seekers and innovation solvers from around the world, with a special focus on Asia and India. ideaken boasts of many firsts, like novel self service web offering and use of Business Intelligence technologies to locate the right innovator and invention for the given need. ideaken also offers a white labelled portal for exclusive use within an enterprise for employee co-creation and innovation management. ideaken offers highest security, user centric design, and features which makes innovation seeking, innovation solving and innovation evaluation much easier and enjoyable. ideaken is led by a group of professionals with strong personal interest around collaborative innovation, science and technology, and product development. ideaken operates from India and Singapore with the help of our partners across the globe. Collaborate to innovate concept video and ideaken product demo could be viewed at http://www.ideaken.com/demo. For more information on ideaken please visit http://www.ideaken.com or contact Jayesh at +91-984-402-2520 or write to jayesh dot badani at ideaken dot com
###