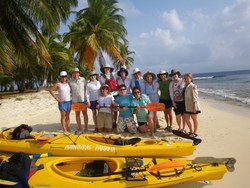 Adventures in Good Company, the largest provider of adventure travel vacations for women, offers four different approaches to winter vacations that encourage active women to escape winter blahs and lethargy.
Baltimore, MD (PRWEB) October 21, 2010
With winter fast approaching, women are planning how to get a break from the cold and snow. While there are many options, such as cruises, spas, and beach resorts, mass tourism is unappealing to women who want something different in 2011. Adventures in Good Company, the largest provider of adventure travel vacations for women, offers four different approaches to winter vacations that enable active women to escape winter blahs and lethargy. Designed especially for adventurous women who love being outdoors, tours range from four days to two weeks and include sea kayaking, hiking, canoeing, trekking, and adventure vacations with multiple activities. With groups of 12 women or less, women-only tours are perfect for women who are traveling alone or with other women, and who want someone else to arrange all the details.
1. Take on a physical challenge
For women who are already fit and want a warm winter vacation with lots of physical challenge, the Mount Kilimanjaro Climb and Safari is a thrilling trek to the rooftop of Africa. At 19,300 feet, this is as high as women can go without any technical skills or experience. The final push to the summit under the light of the full moon is guaranteed to be a lifelong memory. Following this epic challenge women have a chance to relax and unwind during a 5-day wildlife safari to three different parks. February is the birthing month for many animals in Tanzania when the plains of the Serengeti become a giant nursery.
2. Try a beach vacation - with a twist
Many women want some time to relax on a beach time but get bored quickly. Winter vacations that combine sea kayaking with time to swim, snorkel, and relax on the beach are the perfect solution for active women. The clear blue waters and white sand beaches of Panama and the Caribbean offer all these opportunities. And Panama has the extra attraction of offering biodiversity that exceeds its neighbor Costa Rica and yet is still off the beaten path, offering a pristine tropical experience.
3. Learn about an exceptional ecosystem
One of the things women love most about an adventure vacation is the opportunity not only to try something different but to go somewhere and learn something about a landscape that is totally foreign – and women don't even need to leave the United States. Winter is the perfect time to visit some parts of the US that are just too hot and/or buggy the rest of the year. Visiting them in winter allows women not only to stretch their muscles but their minds as they hike the bizarre rocky landscapes of Death Valley or Joshua Tree National Park s or paddle the mysterious river trails of the Okefenokee National Wildlife Refuge.
4. Visit a traditional winter vacation spot in a non-traditional way
Mexico and Hawaii are both traditional warm winter vacation spots. But too often people leave with little more than a tan and a few extra pounds, without any experience of the diversity of wildlife and the history and culture of the people who live there. Many women find that an adventure vacation that combines time to relax with time to explore and try new activities is the ideal way to visit a new place or revisit a familiar place in an unfamiliar way.
5. Immerse yourself in winter
Definitely not in the category of warm weather vacations, some women think the best winter vacation is playing outdoors in the winter. Dog sledding, cross country skiing and snow shoeing on Minnesota's North Shore are made even more appealing when the home base is a cozy condo on the frozen shore of Lake Superior.
About Adventures in Good Company: Adventures In Good Company offers outdoor adventure travel and active vacations for women of all ages to some of the world's most beautiful places. Experienced guides lead small groups of women on active journeys that emphasize nature's beauty, great food, and camaraderie. Women from different backgrounds and stages of life come together to have fun, laugh, and enjoy the excitement and challenge of adventure.
###