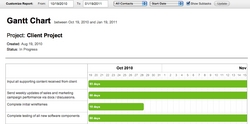 The features in Version 2.1 are based on feedback from current customers. By putting an emphasis on listening to our customers, we help them achieve the most flexible, intuitive, and elegant solution for managing their businesses. There is a process we go through with each request that aligns our vision and product development strategy with our users' needs
Los Angeles, CA (PRWEB) October 21, 2010
Small-to-medium sized businesses will immediately benefit from the new easy-to-use web-based project management features and enhancements. The much-anticipated update, which includes a custom Gantt chart, will help make users more productive by having advanced, robust tools to quickly get things done. All existing customers receive the new features available in Projecturf 2.1 automatically.
Projecturf version 2.1 now offers the following features and enhancements:

JavaScript Gantt chart: non-flash custom Gantt chart built to work on different devices such as the iPhone and iPad. The global and project level Gantt charts allow users to easily view timelines, resources, and schedules for making important project and planning decisions. The Gantt chart is created automatically based on tasks that are already entered into the app, therefore requiring no additional work from the user.
Repeating calendar events: set weekly, monthly, or yearly repeating/recurring calendar events and download them to any popular calendar software.
Better Timecard management: mark timecard entries as paid to easily manage your invoicing and payments, as well as project spending.
Project budgets: stay on budget by setting project level budgets (both hours and costs) to get an instant graphical view (chart) on where the project stands at all times.
Filtering tags: apply and remove filters in each section using new filtering tags, which allow users to quickly and easily find what they need. Filtering is persistent, making the tags even more robust, and the tag design is familiar and user-friendly.
Filter by user: filter tasks and events by users to view schedules and due dates for specific project team members on a project or across all projects globally.
Assign unregistered contacts to activities: start assigning tasks and activities to project members even before they complete their registration.
"The features in Version 2.1 are based on feedback from current customers. By putting an emphasis on listening to our customers, we help them achieve the most flexible, intuitive, and elegant solution for managing their businesses. There is a process we go through with each request that aligns our vision and product development strategy with our users' needs," says Chuck Pearson, CEO of Projecturf.
Unique to project management apps, Projecturf customers are strongly encouraged to participate in the product evolution through a suggestion forum, where they can submit ideas for upcoming features and cast their votes. Suggestions are flagged and worked on based on their popularity and complexity; meaning Projecturf is constantly evaluating and adding new features based on customer suggestions for improvement and better workflow. The forum is located at http://www.projecturf.com/suggestions/.
All three Projecturf 2.0 business plans allow unlimited storage space with no cap on users, project managers or features and a 14-day risk-free trial:
Start-Up Plan is $34.99 per month (manage up to 10 projects)
Business Plan is $69.99 per month (manage up to 30 projects)
Enterprise Plan is $169.99 per month (manage up to 150 projects)
Individual Plan for freelancers is $9.99 per month
Visit http://www.projecturf.com for more information.
# # #