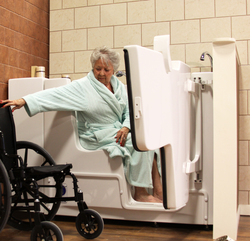 Our new safest access residential hybrid tubs are entered in a different, safer way than the traditional walk-in tubs designed for the home...similar to the way a person gets into a car.
Sparta, TN (PRWEB) October 21, 2010
Rane Bathing Systems has just announced a new initiative to help make bathrooms safe again for seniors and others with mobility problems or the fear of falling. The company, a leader in design and development of safe access tubs for over two decades, has created four unique safest access residential 'hybrid' tubs that combine the benefits and features of institutional bathing and residential walk-in tubs.
"Bathrooms may be the most dangerous place in America," notes company president and spokesperson Jim DeKraker. "Nearly 550 people have an accident in the bathroom each day and seventy-percent of home falls occur in the bathroom."
The Most Dangerous Place in America
The typical American bathroom and the standard design of 'climb over the edge' bathtubs come together in a perfect storm of danger for people with and without mobility problems. "You have to step in and out over the high edge of a tub, balancing on one foot, surrounded by the slippery tile surfaces of the bathroom," says DeKraker. "And trying to get to a standing position after sitting in an old fashioned tub is a prescription for disaster."
The consequences of falls can, indeed, be disastrous and permanently damaging. According to a report issued by the Centers for Disease Control and the U.S. Department of Health and Human Services report:

Falls are the leading cause of nonfatal medically attended injuries in the US
Annually, one in three Americans over 65 years experiences a fall"
Among older adults, falls increase disability
Seniors injured during a fall often do not return to their pre-fall level of physical functioning
"The root cause of many tub falls is the moving of the feet on a slippery surface," explains DeKraker. "Rane's four new safest access residential tubs eliminate this risk by eliminating the need to stand or move around on your feet in the tub."
7 High-Risk 'Fall Points' in Bathing in Regular Walk-In Tubs
Rane's new hybrid tub design is unique in its ability to eliminate the most common, high-risk potential "Fall Points" that are found in regular walk-in models.
1. Walking into the tub from the different level bathroom floor over a 4" to 6" high threshold step, first with one foot and then the other
2. Stepping past the inward swinging door while upright in the tub
3. Swinging door past legs while standing or moving
4. Moving feet to align with seat before sitting
5. Standing up on wet floor after bathing
6. Moving feet around to open the door past your legs while upright in the tub
7. Stepping out of the wet tub over the 4" to 6" high threshold onto the different level bathroom floor…on one foot, then followed by the other foot
"Our new safest access residential hybrid tubs are entered in a different, safer way than the traditional walk-in tubs designed for the home...similar to the way a person gets into a car," explains DeKraker. "You open the wide door outward, sit on the seat, pivot both legs in and close the door."
Reduce Fears As Well as Falls
Bathroom accidents can result in increased mobility limitations and necessitate a transition to assisted care for seniors who have been living self-sufficiently. "This is a tremendous fear for both seniors and the children who want their parents to enjoy personal independence for as long as possible," observes DeKraker.
Other concerns include:
Financial obligations of assisted living
The pain and discomfort of a mobility impairment
Restriction of activities
A dramatically increased fear of falling again
"The stress of worrying about a bathroom fall can really affect quality of life for seniors and their families" says DeKraker. "Safest access residential tubs can relieve some of that worry by providing a safe solution for at-home bathing."
For additional information on the full line of Rane Bathing System Hybrid Tubs, to view their promotional video, and to use Rane's 'Easy As 1-2-3 Selector Chart' please visit the company's website at http://ranetubs.com
About Rane Bathing Systems
Rane Bathing Systems offers a full line of walk-in bathtubs for homes as well as Institutional tubs for hospitals, rehabilitation centers and other types of care facilities. It is the only company in the industry with extensive experience in the design, development and sale of Walk In/Hybrid bathtub units for both residential and institutional customers.
###