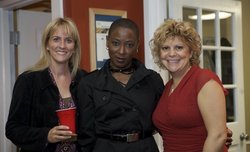 "The greatest measure of our success," says Ouellette, "is the progress that we have helped our clients make – whether overcoming challenges, building awareness, or increasing revenue. That's the best part – seeing the fruits of our labor."
West Kingston, RI (PRWEB) October 20, 2010
Since those first days as a freelance ad designer and journalist in 1986, Founder, President and Brand Manager, Jami Ouellette, has managed to choose her clients from businesses and non-profit organizations that are the right fit for her style, expertise, and passions. Working nights and weekends – while working days as part of a fledgling start-up newspaper called Providence Business News (now also celebrating 25 years!) – Ouellette started with a focus on agency work and healthcare and education clients.
From there, based on referrals alone, her business blossomed into a steady stream of clients within those areas as well as small business offshoots from her PBN contacts. Now her clients vary – all looking to position and promote their brands, products, services and missions; increase sales; and grow customer and fundraising bases. A dedication to staying at a size that allows Ouellette to stay involved, has also allowed for selectiveness. The result – an eclectic mix of clients who share her level of humanity and passion, work together with respect and commitment, and embrace creativity.
From mid-sized non-profits and small businesses to national and international corporations, Im-aj's portfolio range includes healthcare, education, entertainment, housing, transportation, sustainable initiatives, banking, technology, hospitality, tourism, food service, law, retail and manufacturing. Whether the client is one of many of the region's quaint restaurants like Il Piccolo Ristorante or Deck FortyTwo, a national, Maine-based retailer like Sturbridge Yankee Workshops, an entertainment giant like Ringling Bros. and Barnum & Bailey, or a global transportation leader like InterVISTAS, Im-aj applies the same set of standards and skills to the task, resulting in unmatched success.
In managing to find balance between challenge, fun and purpose, Im-aj has found a unique recipe for success. The successful integration of branding strategies, strategic marketing communications, design, public and media relations, and in recent years, e-marketing, web design, and viral and social networking is a recipe that works. Clients – present and past – rave about the results. "Im-aj brought to Rhode Island Housing a unique combination of expertise, comprehension and passion," says Richard Godfrey, Executive Director of Rhode Island Housing. "With their in-depth understanding of the complexities of our organization they successfully rebranded the agency and brought a highly effective mixture of strategy and creativity to all of our marketing and communications. Moreover, Im-aj developed a shared passion and commitment to our mission of helping Rhode Islanders. That mix is not something you find everyday." Gary Boisvert, President of Sturbridge Yankee Workshop, a Maine-based national retail catalogue and e-store specializing in traditional, country and Shaker home furnishings, comments, "Working with Im-aj is like adding a whole staff to your team. They really work with us. While they bring tremendous experience and media contacts in all the traditional marketing outlets, they also reach beyond the traditional and are helping us embrace all of today's technological opportunities. It would be impossible to add staff with that many areas of expertise. And they have a knack for bringing levity to each situation, which makes them fun to work with too."
"I've always gravitated toward clients with whom I have a chemistry, companies that are willing to 'dig deep' and be highly strategic, and organizations that work to make a difference," says Ouellette. "Being more selective and controlling our growth has allowed us to incorporate clients that share my passions and our corporate culture. We are able to spend close to half of our time supporting agencies that help underserved kids, companies and organizations that support sustainability, and family-owned businesses. We find this work rewarding and fun.
"Meanwhile, from an expertise standpoint, we specialize in the larger, more complex corporate challenges. In fact, effectively sifting through complexities, preventing and handling crises, helping companies differentiate, creating brand awareness, and building revenue are what we are known for. This combination has been the driving force behind our success for the last 25 years. It's truly what sets us apart from our competition and it's a recipe that works for every client – big or small. Especially in this economy, companies need strategically focused, creative solutions and to maintain and build brand equity," says Ouellette.
Im-aj is also keenly aware of the ever-emerging trends, as well as the effect of the economy on businesses. "I'm a small business owner. I understand the need to build my brand integrity and awareness and market my services as much – if not more so – as anyone, yet I also know what it's like to read the Wall Street Journal every day and reconsider every budget allocation to be prepared for more bumps in the road," says Ouellette.
In order to help companies survive and grow in a turbulent economy, Im-aj has created abridged versions of integrated planning for clients who have very little budget but need the foundation of sound strategy.
"This allows even our smallest clients to spend their money wisely. It's tempting to use what little funds small companies have to try a couple of tactics. But that is a mistake. We're trying to make it possible for these companies to make thoughtful decisions that will help achieve their goals that they won't regret later down the line," says Jeffrey Morse, Im-aj COO and Emerging Technology Specialist "This is a very different economy than Im-aj has dealt with in its 25 years. We are constantly finding ways to keep budgets down and be flexible to help companies overcome and prosper. Luckily, we have many more cost-effective tools at our disposal than ever before, particularly through viral marketing. And, we are excelling in making these strategies do amazing things for our clients, without the added printing and production costs of more traditional strategies."
"In handling the public relations and publicity for all of our New England markets, Im-aj produced outstanding results through media placements and new community partnerships that elevated our brand in the marketplace. To say their level of work was outstanding was an understatement," says Paulina Piekarski, former Northeast PR Manager for Feld Entertainment. "Im-aj set the bar for the rest of our agencies throughout the country. I constantly used their creative ideas, strategy and consistent success as an example for new and existing publicists. The Im-aj staff's enthusiasm for our brands was contagious and they brought a level of energy that rippled throughout the local communities and kept media, consumers and partners craving more."
"The greatest measure of our success," says Ouellette, "is the progress that we have helped our clients make – whether overcoming challenges, building awareness, or increasing revenue. That's the best part – seeing the fruits of our labor."
On Friday, October 15, Im-aj hosted an open house at its new Rhode Island studio in West Kingston, RI to celebrate its opening and Im-aj's 25th year. A steady stream of business people, political figures, friends and neighbors celebrated with Im-aj staff past and present, starting at 2 pm, and going well into the evening. Visit Im-aj on Facebook to see photos: http://www.facebook.com/pages/West-Kingston-RI/Im-aj-Communications-Design/201739547992 or at http://www.imajcommunications.com.
Im-aj is a certified Minority-owned/Woman-owned Business (MBE/DBE) with offices in Rhode Island, Massachusetts, and Maine. The Im-aj studios are each located in uniquely creative environments. In Rhode Island, while one studio overlooks historic Kingston train station as well as the picturesque farms near the URI campus, the other overlooks the Providence skyline. Staff in Maine can enjoy a bike ride to the nearby ocean beaches, while our satellite office in Seekonk is nestled within a wooded acre.
Since its founding in 1985, Im-aj has specialized brand creation, design and fulfillment; advertising and multi-media campaigns; integrated marketing communications planning; full-service collateral development; communications research and strategy development; public and media relations; crisis communications; public affairs/government-relations support; education, awareness and community engagement; and, for the past 12 years, web development, marketing and design and emerging technology/viral marketing.
###