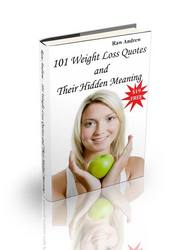 This is one book I'm going to enjoy referring to when I need ideas for a client who's gotten stuck ... with 103 ideas, there's bound to be a few that will work for everyone! ~ Laurie Bebe, RD
Middle Village, NY (PRWEB) October 26, 2010
Searching for quick weight loss methods, most dieters turn to unhealthy fad diets that only hinder their long-term weight loss results. Some people manage to lose weight and never gain it back again. What is their secret? Well, weight loss is all about having and maintaining a healthy lifestyle.
That's the opinion of Raw Andrew, weight loss blogger and author of the recently released free book "101 Weight Loss Quotes and Their Hidden Meaning."
"Many people turn to the latest weight loss fads in a desperate attempt to lose weight fast, often reaping disappointing, if not disastrous, results," says Raw Andrew. "To lose weight and keep it off, all you need is to get healthy eating habits and a healthy lifestyle. That way not only do you lose weight, but you also improve your health and gain more vitality."
Here are just a few of the fat fighting weight loss tips included by Raw Andrew in his new book:
-Eat slowly if you want to lose weight by avoiding overeating. This is the simplest pain free way to lose weight without starving yourself. All you have to do is chew your food well, and let some time pass between your bites. This way you will avoid overeating. In fact studies show you will eat less food at each meal.
-All healthy diets share one common trait: they help you form healthy eating habits. This is the test of fire that all healthy diets must pass. If it doesn't, stay away from that diet. That is why the majority of weight loss diets won't work for long periods of time.
-To get over compulsive overeating you should channel your emotional hunger into more beneficial outlets. Instead of eating a bag of French fries, go jogging or do any kind of physical activity that you enjoy. It will take your mind off your problems and restore your emotional balance.

Lighten up while dieting and your weight loss plan will seem a lot easier to fulfill and carry to an end. Diet humor is a must. If you get raging mad each time you eat a cookie, or you skip an exercise routine, you are going to develop very serious health problems.
The best foods you can eat to keep your appetite in check are fiber rich foods like: dark green leafy vegetables, peas, spinach, broccoli, beans, avocado, berries, dried fruits, whole grains, nuts and seeds… Each time you feel your appetite getting out of control eat some high fiber foods. Before eating the main course, eat high fiber foods as appetizers. This way you will avoid overeating, and eating lots of fattening foods.
Weight managements is the longest and sometimes the most difficult part of any weight loss program. That is why most weight loss solutions don't even tackle the problem of weight management. If a diet only helps you lose weight, and then lets you high and dry, without any means of keeping your new hot figure, you should not use that diet in the first place.
Stress is a killer. Don't let your diet stress you out. If you crumble under the pressure of your cravings once, get back on your diet the next day. After that don't worry about if you will be able to stick to your diet this time or not. Learn to go with the flow.
"This is one book I'm going to enjoy referring to when I need ideas for a client who's gotten stuck ... with 103 ideas, there's bound to be a few that will work for everyone!" said Laurie Bebe, registered dietician and weight loss coach.
To receive a free copy of Raw Andrew's book click on the following link "101 Weight Loss Quotes and Their Hidden Meaning" or visit http://www.ShedYourWeight.com and click the free weight loss book button. You will be taken directly to a download page from which you can secure your very own copy.
Raw Andrew is a former fatty and the weight loss blogger behind ShedYourWeight.com. His blog helps thousands of people everyday live healthier lives. Raw Andrew's quest is to help 1.000.000 people lose weight and become fit. He has a "no fluff" or unhealthy dieting approach to weight loss, based on healthy eating and healthy living. According to his personal experience, that is the best way to lose weight and keep it off forever. For more information please visit http://www.ShedYourWeight.com or call Raw Andrew at +1 718 593 4487.
# # #