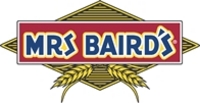 Research continues to show that consumers are more health-conscious than before and antioxidants rank high in interest, now being found in more everyday foods
Fort Worth, TX (Vocus) October 20, 2010
In its continuing commitment as a leader in the bread industry, Texas-based Mrs Baird's becomes the first major baking company in its region to fortify its line of sandwich wheat breads, now providing an excellent source of antioxidant vitamins A and E. These enhancements further Mrs Baird's attention to wholesome, great tasting and nutritious breads. The new health benefits are now included in Mrs Baird's 100% Whole Wheat, Honey 7 Grain, Honey Wheat and Split Top Wheat.
"Research continues to show that consumers are more health-conscious than before and antioxidants rank high in interest, now being found in more everyday foods," said Dan Larson, Mrs Baird's Marketing Manager. "By enhancing our line of sandwich wheat breads with antioxidant vitamins A and E, consumers have another way to support a healthy diet."
Antioxidants are believed to help prevent and repair oxidative stress, a process that may damage cells within the body. In addition to its antioxidant properties, Vitamin E also helps support skin health and the function of the immune system.
"Our customers will not notice any change in texture and flavor," said Larson. "However, they will notice the benefits of the added nutrition on the label. For example, only two slices of our Honey 7 Grain bread provides 25-percent of the recommended daily allowance for vitamins A and E."
About Mrs Baird's
Mrs Baird's products are produced by Bimbo Bakeries USA (BBU) which operates 34 bakeries in the United States and distributes top brands such as Arnold®, Bimbo®, Boboli®, Brownberry®, Entenmann's®, Francisco®, Freihofer's®, Marinela®, Oroweat®, Stroehmann®, Thomas'®, and Tia Rosa,® through more than 7,000 routes. Bimbo Bakeries USA is headquartered in Horsham, PA, and is a wholly owned subsidiary of Mexico's Grupo Bimbo, S.A.B de C.V., one of the world's largest baking companies with over 104,000 associates and operations in 17 countries throughout the Americas and China. More information about Mrs Baird's full line of products can be found at http://www.mrsbairds.com.
For Further Information Contact:
Shane Sumrow
214.368.0909
###