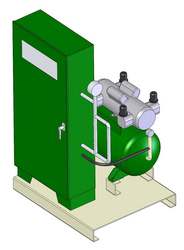 Saint Louis, MO (Vocus) October 20, 2010
Fire Protection Systems Corrosion Management, Inc. (fpsCMI) the preeminent provider of nitrogen generators for fire protection systems is proud to announce the Engineered Corrosion Solutions Pre-Engineered Nitrogen Generation System (PENGS). The PENGS is a pre-engineered nitrogen generation system that is designed to purge oxygen from pressure maintenance gas in a single zone dry or preaction fire sprinkler system with a capacity up to 750 gallons.
According to Thorstein Holt President of Holtec Gas Systems and fpsCMI's joint venture partner for nitrogen applications, "This changes everything. The ECS Pre-Engineered Nitrogen Generation System is a self contained skid-mounted unit complete with nitrogen generator, compressor, vent and air maintenance device. It is truly a plug and play system that is plumbed directly to the fire sprinkler zone and does not require on-site commissioning."
A unique feature of the patent pending PENGS is the unit's ability to provide automatic "fill and purge" breathing to remove virtually all of the oxygen from the fire sprinkler system piping network. After a period of time of typically up to two weeks, the fire sprinkler system piping will be completely inerted with dry nitrogen gas at which point oxygen corrosion is completely controlled. Thereafter, the PENGS is programmed to stop the "fill and purge" process but continues to automatically provide nitrogen gas on an as-needed basis that is sufficient for pressure maintenance of the fire sprinkler system.
The Engineered Corrosion Solutions Pre-Engineered Nitrogen Generation System can service a single dry/preaction system whose total volume is less than 750 gallons and runs on an 110v AC power supply. The self-contained unit reduces contractor's installation labor and eliminates commissioning cost when compared to alternatives. The PENGS is an ideal application for dry/preaction fire sprinkler systems protecting small outdoor canopies, loading docks, small data centers, museums, and attic systems.
Fire Protection Systems Corrosion Management Inc. is the industry leader in providing corrosion assessment, mitigation and prevention technology to the fire protection industry. fpsCMI responds to project and industry needs with a team of professionals including registered fire protection engineers and graduate chemists who possesses a complete understanding of the science and mechanisms that causes internal corrosion.
The fpsCMI team brings decades of experience in addressing internal corrosion in fire sprinkler systems and therefore consistently delivers solutions and products that are unique state-of-the-art technologies.
Additional information about fpsCMI can be found at http://www.fpscmi.com or by calling 877-432-8040.
# # #