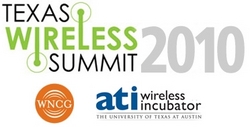 Simply put, the Summit provides access to wireless research and product leaders that cannot be found anywhere else in one place. - Ted Rappaport, Founding Director, WNCG
Austin, TX (PRWEB) October 20, 2010
The Austin Technology Incubator, a not-for-profit commercialization unit of the University of Texas, is partnering with UT's Wireless Networking and Communications Group to host the eighth annual Texas Wireless Summit, Nov. 16 at the AT&T Conference Center in Austin, Texas.
The Summit will highlight technologies emerging from industry players, startups and research groups at the core of the wireless industry's continued innovation explosion. Keynotes, panels and presenting companies will drive the day's discussion.
Speakers will represent industry leaders -- from Alcatel-Lucent Bell Labs to Grid Net to Texas Instruments -- and academic institutions at the forefront of wireless research -- from The University of Texas to Polytechnic University of New York to Virginia Tech University. The conversation will cover the industry's most pivotal topics, including "The Too-Much-Data Paradox," "Inside Out: The Future of Mobile Broadband," "The Future of Multi-band Wireless Devices," "Smart Grid," "The Future of Cognitive Radio" and others.
"Texas Wireless Summit provides an intimate college campus setting where attendees can spend quality time with influential technical and business leaders to learn the future of the wireless industry. Attendees will learn about all of WNCG's research activities and see the most promising wireless startup companies in Central Texas. Simply put, the Summit provides access to wireless research and product leaders that cannot be found anywhere else in one place," said Ted Rappaport, WNCG Founding Director and TWS 2010 panel moderator.
In between the keynotes and panels, four premier Central-Texas wireless startups -- Blacksand, Nitero, Unwired Nation and Mavenir Systems -- will take the stage to present their technologies to the Summit audience.
More than 10 other Austin-based wireless startups will display their innovations as MobileMonday Austin, a group that exists to connect wireless consumers to industry and academia, is partnering with TWS this year to create the MoMoATX Showcase, a forum for Austin's most interesting mobile applications to interact with the Summit audience. Participating companies will receive one complimentary registration and discounts on additional registrations. 
WNCG will present the group's latest research and compelling wireless innovations in two demonstration and poster sessions, in which they will line the Summit floor to exhibit their research and field questions from interactive attendees.
"In addition to the wealth of expertise we're able to draw in through our speakers, WNCG's research showcase and the startup presentations have established themselves as distinctive features of the Summit. The trend-predictive technologies unveiled by both WNCG and the selected startups year-after-year make TWS the go-to event for all interested in the trajectory of the wireless industry," said Bart Bohn, ATI-Wireless Director.
There will be around 200 leading members from all areas of the mobile industry in attendance, including many investors and business development representatives from key potential partners. In addition, RCR Wireless, the premier news source for the wireless communications industry, has come on as a TWS partner to provide built in media connectivity.  
You can follow and join Texas Wireless Summit conversation on Twitter with #TWS.
About the Austin Technology Incubator
The Austin Technology Incubator is a nonprofit unit of The University of Texas at Austin that harnesses business, government and academic resources to provide strategic counsel, operational guidance and infrastructure support to its member companies to help them transition from early stage ventures to successful technology businesses. Since its founding in 1989, ATI has worked with over 200 companies, helping them raise close to $750 million in investor capital. ATI is a key program of the IC2 Institute at The University of Texas at Austin. For more information, visit http://www.ati.utexas.edu
About Wireless Networking and Communications Group
The Wireless Networking & Communications Group (WNCG) is an interdisciplinary center for research and education at The University of Texas at Austin with an emphasis on industrial relevance. WNCG exists to create a collaborative environment which supports basic research and promotes technical innovation, imagination and entrepreneurship in wireless networking and communications and applications thereof. In addition, WNCG seeks to provide a highly relevant education and opportunities for students wishing to pursue careers in wireless networking, communications and related areas. For more information, visit http://www.wncg.org.
# # #