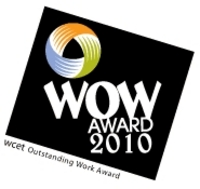 Boulder, CO (PRWEB) October 20, 2010
The WICHE Cooperative for Educational Technologies (WCET) is pleased to announce the recipients of the 2010 WCET Outstanding Work (WOW) award, a competition that recognizes innovative uses of educational technologies in higher education. In 2010 the awards go to four ambitious projects, each addressing a challenging issue with a unique solution: changing the role of journalism and new media to promote civic engagement; providing adult learners with on-demand programs and services to encourage degree completion; increasing the adoption of open textbooks to lower student costs; and promoting the integrity of academic online programs.
These winning projects, which will be honored at the WCET Annual Conference on November 10-13 in La Jolla, California, include the following:
Foothill-De Anza Community College District's College Open Textbooks Collaborative addresses the goal of textbook costs for community college students, a problem than can be a barrier to college success. The College Open Textbooks Collaborative, funded by The William and Flora Hewlett Foundation, has implemented a multifaceted strategy to increase adoption of open textbooks among community college faculty. The collaborative provides training for instructors adopting open resources; accessibility assurances and peer reviews of open textbooks; mentoring of authors opening their textbooks; research on factors that affect open textbook adoption; and advocacy support for other campus stakeholders in the adoption process. More than 500 open textbooks have been identified and catalogued online. Nearly 100 of these open textbooks have undergone extensive peer review, and many have been reviewed for accessibility standards. Watch the video!
Contacts:
Sharyn Fitzpatrick, Marketing
sharyn(dot)fitzpatrick(at)happyabout(dot)info
650-564-0011
Una Daly, Associate Director
dalyuna(at)fhda(dot)edu
College Open Textbooks, Foothill-De Anza Community College District
650-949-7118
Kentucky Virtual Campus's KCTCS Online – Learn on Demand, a partnership of Kentucky Virtual Campus (KYVC) and the Kentucky Community and Technical College System (KCTCS), is designed to provide working adult students with flexible access to "learn on demand" online courses and programs. Kentucky, like many states, has a statewide goal of increasing the number of bachelor's degree holders and expanding upon program offerings that prepare students for the 21st century workforce requirements. Learn on Demand, formerly known as the Virtual Learning Initiative, features fully online courses that are modularized, self-paced, open-entry, and competency-based, with all content integrated into the learning management system, eliminating student expenditures for textbooks. The first programs launched include an associate degree in business administration, an associate degree in information technology, and certificates that address specific workforce needs. http://www.chriswitzke.com/kctcs/kctcs-online-2010-v2..mov.zip [Watch the video! __title__ Click this link.]
Contact:
Sandy Cook, System Director, Distance Learning Technologies
Kentucky Community and Technical College System
sandy(dot)cook(at)kctcs(dot)edu
859-256-3240
Rio Salado College's Peer-to-Peer Plagiarism Project detects plagiarism among its 36,000 online students, using exclusively internal staff and resources. The system is intended to deter cheating, which will greatly benefit students by helping to ensure the long-term value and integrity of Rio's academic programs. As of March 2010, the system has scanned thousands of new student submissions and has detected 450 suspected cases of peer-to-peer plagiarism—cases that would almost certainly not have been detected using more traditional monitoring techniques. John Jensen, current Rio Salado faculty president, praised the new system: "The peer-to-peer plagiarism detection system is a key element in fortifying Rio Salado's commitment to academic integrity…In the end we feel that this system supports authentication in the online learning environment that meets or exceeds the capabilities of the physical classroom." Watch the video!
Contact:
David Staudacher, Coordinator
Media Relations and Public Relations
Rio Salado College
david(dot)staudacher(at)riosalado(dot)edu
480-517-8472
Winona State University's Winona360 Civic Media Project is an interdisciplinary innovation laboratory for students, faculty, and information technology staff of the Winona, MN, region to learn and create in emerging media technology, while serving the area with news, information, education, and cultural expression. Winona360.org has been built on a conception of civic media. Civic media goes beyond the traditional journalism of news gathering and reporting and includes any form of communication (text, video, photography, virtual reality, gaming) by professionals and citizens alike. Winona360.org is a community Website, made possible by collaborations between Winona State faculty and students, as well as partnerships with Saint Mary's University, Southeast Technical College, and local high schools, which have come together through this project to create a community classroom, supporting new forms of teaching and engaged learning. Watch the video!
Contacts:
James Bowey, Founder, Winona360
Winona State University
jbowey(at)winona(dot)edu
507-457-2605
Kate Carlson, Editor, Winona360
Carlsonwinona360(at)gmail(dot)com
815-508-1480
The WICHE Cooperative for Educational Technologies (WCET) accelerates the adoption of effective practices and policies, advancing excellence in technology-enhanced teaching and learning in higher education. More detailed information about the WOW award recipients and their projects is available on WCET's website at: WOW Media Release 2010.
###