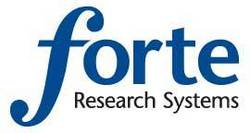 We are experiencing rapid growth in all aspects of our operations. We brought Srini Ramachandra and Kevin on board because they offer a breadth and depth of experience that will be invaluable in support of our new and ongoing endeavors
Madison, WI (Vocus) October 20, 2010
Forte Research Systems, Inc., a leading developer of clinical research management software, has expanded its leadership team with two key additions this year. First, the company welcomed Srini Ramachandra as Vice President of Sales, Marketing and Business Development in the second quarter. Then, Kevin McPherson joined the company as Chief Financial Officer in the third quarter.
These additions are part of an overall pattern of growth and increased visibility for the company. Its flagship product, the OnCore(r) clinical research management system, already used by 40 percent of NCI designated cancer centers that do clinical research, has seen significant adoption among academic medical centers and children's hospitals. Recently, the company was recognized by Inc. magazine when it ranked Forte Research Systems No.2562 on its fourth annual Inc. 5000 ranking of the nation's fastest-growing private companies.
"We are experiencing rapid growth in all aspects of our operations. We brought Srini Ramachandra and Kevin on board because they offer a breadth and depth of experience that will be invaluable in support of our new and ongoing endeavors," said Srini Kalluri, Founder, President, and CEO of Forte Research Systems.
Passionate about technology and how it can be used to solve problems, Srini Ramachandra now oversees sales, marketing and business development activities for the company's expanding product portfolio. The Business Development and Customer Experience Services teams now jointly report to him.
"The strong positioning of OnCore as the leading clinical research informatics platform across the academic health centers and cancer centers in the U.S. will enable us to rapidly enter new markets while continuing to support and extend the capabilities of the current clinical research enterprise. Forte Research is uniquely positioned to significantly enhance its sales and marketing activities to meet the needs of the new growth market segments", said Ramachandra.
Prior to joining Forte Research Systems, Ramachandra was responsible for global marketing of microarray instruments and software at Roche Diagnostics and, prior to that, he spent 15 years developing and marketing software products at Applied Biosystems for life science research.
After spending seven years as CFO at Venture Investors, a Madison-based venture capital firm, Kevin McPherson is enthusiastic about returning to a high-growth operating company. His prior CFO experience at venture capital, internet, software, and biotechnology companies has prepared him to meet the challenges of building infrastructure to support Forte Research System's future growth.
"Forte Research is at an exciting time in its development. We're going to experience significant growth in the upcoming years. I look forward to working with Srini Kalluri and the rest of the team as we take the company to the next level," said McPherson.
Kevin will oversee finance, accounting, investor relations and human resources in his role as the company's Chief Financial Officer.
Founded in 2000 and headquartered in Madison, Wisconsin, Forte Research Systems develops enterprise-class clinical and translational research management software. The company's flagship product, the OnCore system, is the nation's most widely adopted clinical research platform among academic research organizations and cancer centers.
PercipEnz Technologies is now Forte Research Systems. Same company, new name.
###